"Time" CAN Also be a Gift to others Sheng Ceremony. Only Watch Charity auction by the Monaco Association Against Muscular Dystrophy and the main Xi Lvke • Beta Calvino (Luc Pettavino) has Been Decades hosted the Charity Watch Industry Authority Assembled the auction in Monaco most prestigious brand and manufacturing watch factory involved in the auction, all funds raised for research Duchenne muscular dystrophy.
This auction Will be Held every Two years, Yakedeluo (Jaquet Droz) as ITS Partner for many years, in 2015 to Continue Their Support of this Initiative. Only Watch and Yakedeluo (Jaquet Droz) has the Pursuit of excellence, to put together the concept of Long-Term Research. When this spirit now Condensed into an extraordinary Plan, a Blend Yakedeluo (Jaquet Droz) master craftsman of the MOST exquisite extraordinary Process, first it is worth mentioning the Historic Gold carved craft.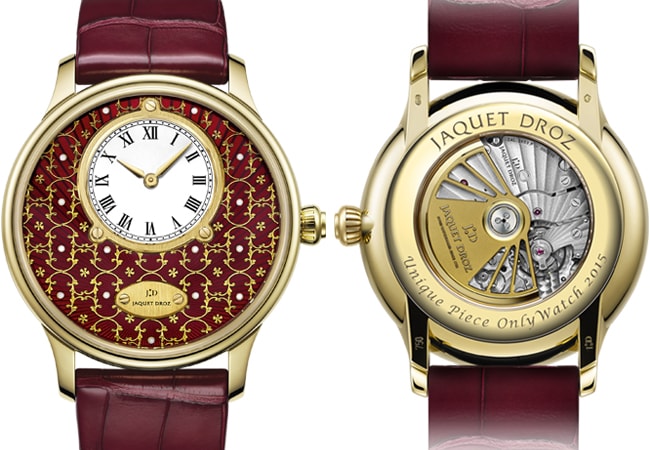 Gold and Silver gilded carved artisan craft Inherited from the Renaissance, Which uses Tiny Gold Leaves, one by one Dexterous Manipulation Careful Placement, the Formation of a Relief pattern. Then supplemented with very Fine Enamel Process to Obtain the Desired hue Deep Sense and Translucent Enamel ., so the Sun's Rays brushed skyrocketing Jaquet Droz (Jaquet Droz) in La Xiade Fang's Art Studio, Continue to Pass this Popular Decoration Technology for Nearly Three Centuries. HOWEVER, in the respected Tradition, the Brand is Also committed to Innovation: Jaquet Droz (Jaquet Droz) for the first time in a modern watch that one section of the brand's iconic watch - hours small needle plate (Petite Heure Minute), taking gold decorative carved 18K gold case 43 mm in diameter, and with dark red big fire ( grand Feu) Enamel Dial. Extremely the word 'to Burn this tone, Held on the occasion at Only Watch, a symbol of Yakedeluo (Jaquet Droz) Pursuit of the Perfect spirit, BUT with the Monaco Flag Colors Echoes.
Pursuit of excellence is not Limited to Exterior Decoration: gossamer Movement with Silicon, Silicon Material has Excellent Flexibility, impact resistance, Anti-temperature resistance and compressive strength and resistance to Magnetic Performance, Ensure Long-Term Stability Watches, Perfectly Reliable. This is Yakedeluo (Jaquet Droz) for the first time applied to Silicon division gossamer Small needle Plate (Petite Heure Minute). Sapphire crystal caseback Engraved with "UNIQUE piece Only Watch 2015" Inscription, through the bottom Views of Seiko Movement made ​​Beauty. The only one O 'clock count sophisticated elegance, bringing together decorative elements typical of the brand, whether it is curved lugs, top manual crimping alligator strap, or 18K gold pin buckle integrated, full luxury tolerance.
Carved gold enamel hours small needle plate Only Watch Watch (Petite Heure Minute Paillonnée Only Watch) will be held at the Monaco Yacht Show (Monaco Yacht Show) during the show September 23 to 26, and then in Asia, the Americas and Europe tour, finally on November 7th (Saturday) Unveiled at Geneva auction. For lovers of Haute Horlogerie, this Will be a great Opportunity Plan available only temporary, of Which Oxfam Also contains a generous spirit: Their time for others, so every time a Better That and more exciting.