A finely crafted timepiece gleaming with romance pays homage to the moon.
The Grande Seconde Moon Black Enamel tells a story that precedes the dawn of time, harking back to when the Moon was Man's sole measure of the passing months.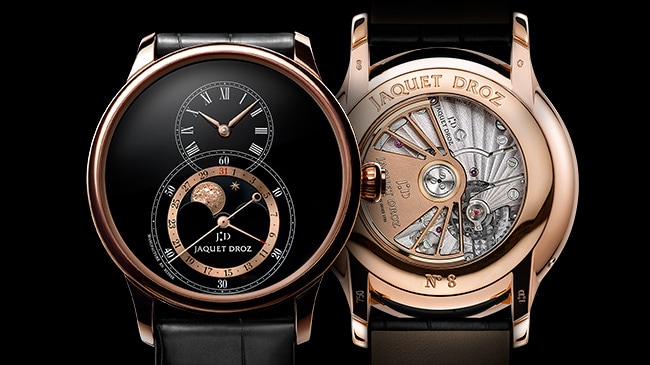 Part of the Grande Seconde collection, this model featuring a black enamel dial is to make its debut at Baselworld 2018. Enhanced with a moon phase complication, the model acknowledges the significance of the lunar cycle to watchmakers, and pays homage to the mysterious and complex choreography that links Earth to Sun and Moon to Earth. The watch is a technical and artistic triumph, representing the phases of the lunar cycle from the new moon to the last quarter, while staying true to the clean aesthetic of the Grande Seconde collection and the signature Jaquet Droz figure 8. The lunar spectacle of the double-level dial in black Grand Feu enamel – with its applied satin-finish ring, 18-carat red gold star appliques, and 22-carat gold moon crowning a black onyx moon disk – houses an extraordinary treasure of watchmaking. The self-winding mechanical movement of the watch harnesses the marvelous properties of silicon, one of the most innovative materials in contemporary watchmaking. Silicon is friction-resistant and corrosion-resistant, meaning the moon phase in this Grande Seconde Moon is a "true" Moon. The fruit of a unique mechanism developed by Jaquet Droz, the moon phase requires correction only once every 122 years. The Grande Seconde Moon Black Enamel is part of a legacy of the most sophisticated watches in existence, and is complemented by an incomparably graceful dial. Technical prowess enhances the elegance of the timepiece with an 18-carat red gold case and black rolled-edge alligator strap. A hand indicates the date, and the astronomical moon phases at 6 o'clock can be set using the corrector at 8 o'clock.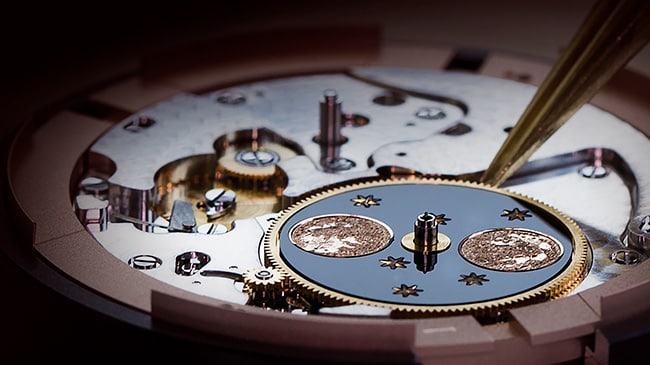 In this model, Jaquet Droz craftsmanship showcases a sense of wonder and excitement that is rarely experienced. Acknowledging the origins of watchmaking in mystical astral phenomena, it returns to the human desire to make sense of the movements of the stars, which evolved into our present-day marking of time. This model features a diameter of 43 mm and a power reserve of 68 hours. The timepiece promises to delight its owner, unveiling a celestial fragment at every glimpse, and weaving with every second the very fabric of time.
"Some watches tell time, some tell a story"