Jaquet Droz is presenting its iconic Grande Seconde Off-Centered model in four versions with a diameter of 39 mm.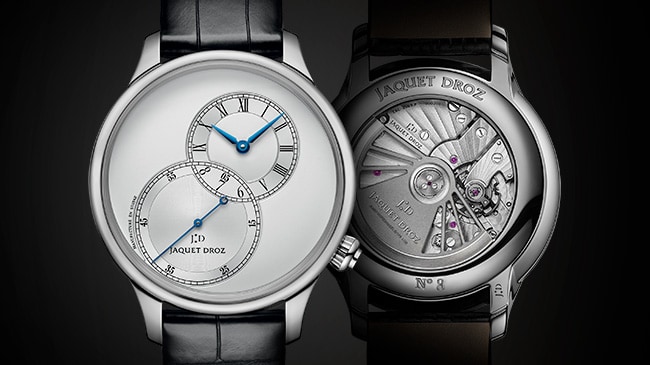 This watch is legendary. Created by a visionary watchmaker whose mechanical expertise and virtuoso design revolutionized the perception of time during the Age of Enlightenment. Who at the time could have imagined emphasizing the passing seconds more than the hours and minutes? The brand founded by Pierre Jaquet-Droz has created one of the most beautiful dials in European watchmaking. The two intersecting dials form a figure 8: a symbol of completion, balance and infinity. A lucky number for the brand known by its twin stars.
And now there's a new 8. It is at once the same and completely different, available in four new models. The similarity comes from its lines, interlinking circles, elegant curves and perfect readability. And yet a slight off-centering gives its shape a twist. The hours-and-minutes dial is now located at two o'clock, with the seconds at seven o'clock. A small change that changes everything. Dynamic and modern, with the delicacy characteristic of Jaquet Droz, the Grande Seconde offers an unrivaled sophistication highlighted by its new format. Its case with a diameter of 39 mm means that it is now as much at home on women's wrists as on men's. It offers everyone the elegant mystery of two mineral dials, handmade by the craftsmen of Jaquet Droz. A choice between the deep monochrome black of onyx or a starry sky in aventurine bordered by a diamond-set bezel. The indexes cut directly into the circles of the dials create a clean, stripped-down appearance reminiscent of the style of contemporary art. These two versions are joined by a model with a silvery opaline dial, whose flawless purity is enhanced by blued steel hands, as well as a model in Grand Feu enamel, the historic signature of the brand with the unique texture and coloring of ivory.
And as a finishing touch, in a detail that connoisseurs are sure to notice, the winding crown has moved and is now positioned at four o'clock. A charming shift that reflects both the spirit of these models, each engraved with an individual number, and the spirit of Jaquet Droz: the taste for a classicism that is never rigid but rather always in motion so as to better re-invent itself.
"Some watches tell time, some tell a story"