The Grande Seconde Off-Centered embodies the essential Jaquet Droz design codes, balancing a sense of history with sheer, modern elegance.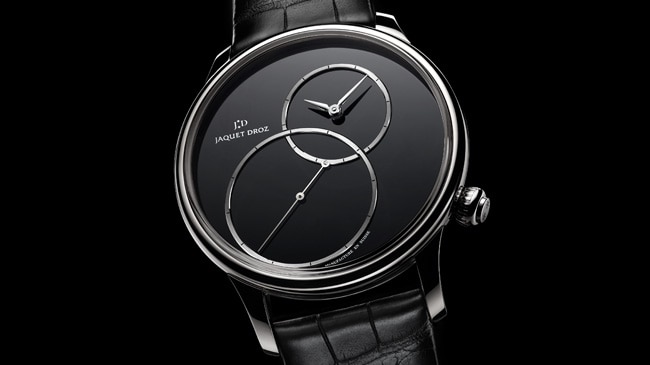 The Grande Seconde Off-Centered Onyx displays a striking graphic simplicity and its stylized black dial of edgy, intense black draws one deep into the heart of Jaquet Droz's history. The creative concept underlying this model was born in the 18th century, at the height of the Enlightenment, when Pierre Jaquet-Droz revolutionized watchmaking with his Grande Seconde. In conceiving two barely superimposed dials, one of them off-centered at 6 o'clock and with an extra-fine hand marking the seconds, Pierre Jaquet-Droz invented more than simply a new form of mechanism: he originated a new conception of Time, whose minutest instants became infinitely precious. Together the two dials form the figure 8, a symbol of balance and wholeness that the brand known by its twin stars would adopt for its lucky number.
The craftsmen at Jaquet Droz had already given an aesthetic twist to this understated motif by shifting the second dial slightly to 7 o'clock. 2016 sees a new variation introduced, featuring a 43-mm stainless steel case for the first time, whose diameter further amplifies the magnetic blackness of the dial. An exceptional color celebrated by artists since time immemorial, black takes on a whole new dimension in the Grande Seconde Off-Centered. Following in the great tradition of the mineral dials created by Jaquet Droz, an onyx disc has been painstakingly cut and polished to form the dial of this watch. Its deep black harbors an extraordinary intensity, recalling the mystery of an inkpot, where an author dips the quill, or the silky satin that a couture designer fashions into a garment. With every movement of the wrist, its flawlessly even surface comes alive with reflections of almost liquid intensity. This voluptuous play of brilliance is made all the more stunning by the understated elegance of the indexes. The Jaquet Droz craftsmen cut them directly into the 18-carat white gold circles of the large hours and minutes dial and the smaller seconds dial that combine to form the legendary figure 8. The metal's mirror-like shine contrasts with the waves of light that run across the onyx disc and bring out the delicate reliefs of the rings and bezel. The winding stem positioned at 4 o'clock adds a dynamic touch to this iconic new watch, which also comes in a version that teams a silvered opaline dial with an alligator leather strap. Jaquet Droz brings new mystery to the poetry of time in the Grande Seconde Off-Centered Onyx, sparking the same luminous flashes that inspire artists in the depths of their darkest nights.