Switzerland's luxury watch, brand Jaquet Droz has announced the opening of its first boutique in the Dubai Mall, inviting connoisseurs, collectors and watch aficionados from the Middle East to explore and discover the 280-year-old legacy of the brand.
Jaquet Droz is one of the oldest and most prestigious Swiss watchmaking brands in the world. Established in 1738, by Pierre Jaquet-Droz, one of the greatest craftsmen of the 18th century, Jaquet Droz has been developing unique, exceptionally crafted collections that stay true to its founder's legacy for close to three centuries.
With a refreshed brand campaign – 'Some Watches tell Time. Some tell a Story" Jaquet Droz will take customers on a journey of exclusive timepieces at its new boutique in Dubai Mall and showcase its passion for master watchmaking and time-old watch culture.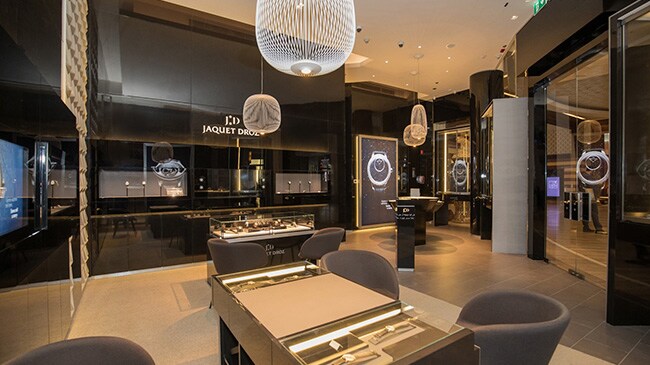 The new boutique features an elegant ambience, with sleek lines and a palette of beige, black and grey. Set in a modern and luxurious atmosphere, customers will be able to revel in the brand's refined style and appreciate the watches that will be presented in a luxurious wall showcase. In addition, customers will be able to marvel at a structured wall inspired by the stars found in the brand's logo and the crown of its watches.
The automata models and the Ateliers d'Art limited editions are especially favored by connoisseurs, who will now be able to leisurely browse an extensive collection and enjoy unique and exclusive dial customizing services. The exquisite 'Ateliers d'Art' collection which features birds – a theme that was very dear to Jaquet Droz since the 18th century, will also be available at the new boutique.
Mr. Christian Lattmann, CEO of the brand, said: "We are delighted to open our first independent boutique in Dubai Mall – the home to the world's leading luxury brands and one of the largest shopping centers in the world. With a large number of watch connoisseurs and collectors, the Middle East represents a key market for Jaquet Droz and we are pleased that our discerning customers will be able to browse our extensive collection of timepieces in the comfort and luxury of our exclusive new address in Dubai."
With 280 years of legend combined with exquisite craftsmanship and history, the new boutique promises to be a delight for watch enthusiasts. The collection will showcase Jaquet Droz's extreme precision of the art of watchmaking and its relation to the mysteries of the universe and its infinite possibilities.
"Some watches tell time, some tell a story"