On December 12th a hundred of guests were invited to the inauguration of the exhibition.
After tremendous success in Asia (Shanghai and Hong Kong), the Jaquet Droz masterpieces arrive in Russia, allowing the sophisticated local audience to appreciate all the facets of Swiss watchmaking and understand how the brand manages to preserve its heritage. This journey through time sheds light on the relationship between classic works of the 18th century and contemporary ones: automata, unique models from the artistic workshops and birds of all kind that have become a source of inspiration for miniature painting, rivaling the beauty of the legendary watch models.
His elegant philosophy, which transcends national boundaries and stems from the era of the Enlightenment, remains at the heart of Jaquet Droz culture to this day, where its watches still pair the design and wealth of materials and ornaments with incredibly refined watch mechanics. The most innovative sophistication sits side-by-side with the simple elegance of enamel or the luster of precious stones and pearls, and magnificent minerals or rare woods are used in custom-made dials. Three centuries since its creation, exclusive editions still form the cornerstone of the Manufacture's watchmaking. The most outstanding creations from Jaquet Droz can be admired until January 2014, after which the exhibits will travel to the Middle East, America and Western Europe.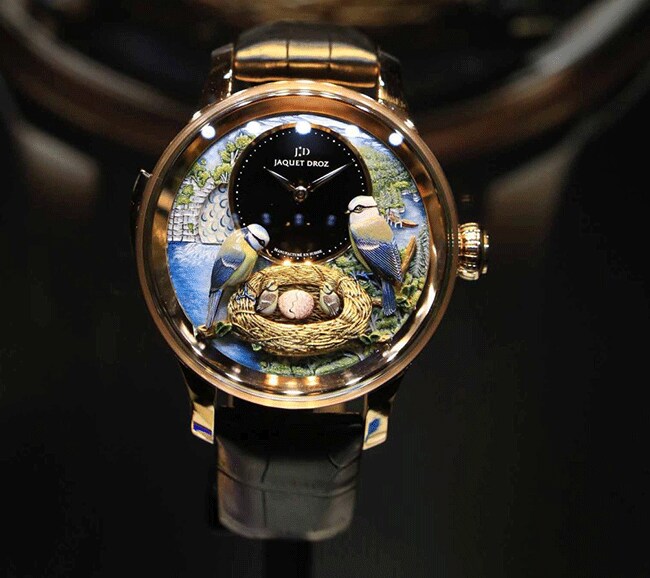 Address: 2/3, Revolutsii [Revolution] Square, Museum of the Patriotic War of 1812, Dvusvetny Hall, Second Floor. December 13th 2013 – January 14th 2014. Open hours: daily from 10 am till 6 pm, Thursday from 11 am till 9 pm. Tuesday day off. Admission to the exhibition is free