Beijing, China, November 14th, 2018 – The Swiss luxury watch brand Jaquet Droz unveiled a new incarnation of the Tropical Bird Repeater in a unique variation available in exclusivity for the Chinese market. Jaquet Droz CEO, Mr. Christian Lattmann, and Jaquet Droz China Vice President, Mr. David Lu, were joined by distinguished guests of the brand as well as local and international media to celebrate the launch of this stunning piece. 2018 marks 280 years of fabulous craftsmanship and unique creations for Jaquet Droz.
At the press conference, guests were invited into an elegant tropical rainforest to explore a world where nature meets the art and science of Jaquet Droz. Under the cover of tropical plants, it is with great emotion that invitees discovered the fascinating animations of this automaton timepiece coming to live, in addition to other recent novelties from Jaquet Droz. The unique new edition of the Tropical Bird Repeater shows the peacock displaying in the foreground of a lush rainforest tableau. A jaguar lounges behind the peacock, while an animated hummingbird flits at the foot of a flowing waterfall –also animated– in the background. One could almost hear the singing of tropical birds as they explored the scene.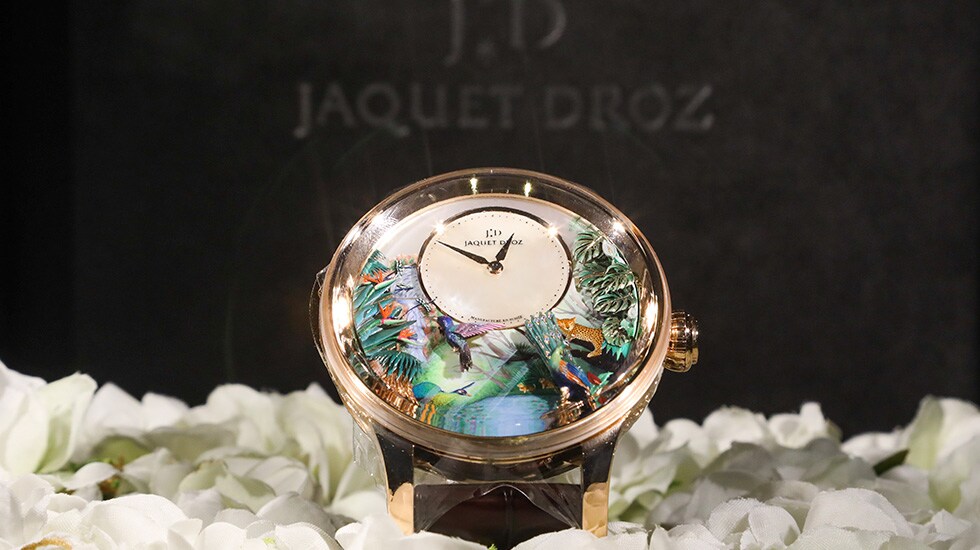 The choice of color is deliberate: the green peacock is the only peacock in the world that truly originates in China, unlike the blue peacock whose roots can be traced to India and Sri Lanka. The decision to present the piece in Beijing also has its roots in history. Pierre Jaquet-Droz exported more than 600 pieces to China over a single decade in the early years of the business. The Jaquet-Droz family ignited a passion for mechanical watches and European automatons in Emperor Qianlong and the Mandarins at the Imperial Court. Jaquet-Droz timepieces were the first to be imported into the Forbidden City, and a number of Jaquet-Droz automatons and pocket watches are held in the Palace Museum to this day.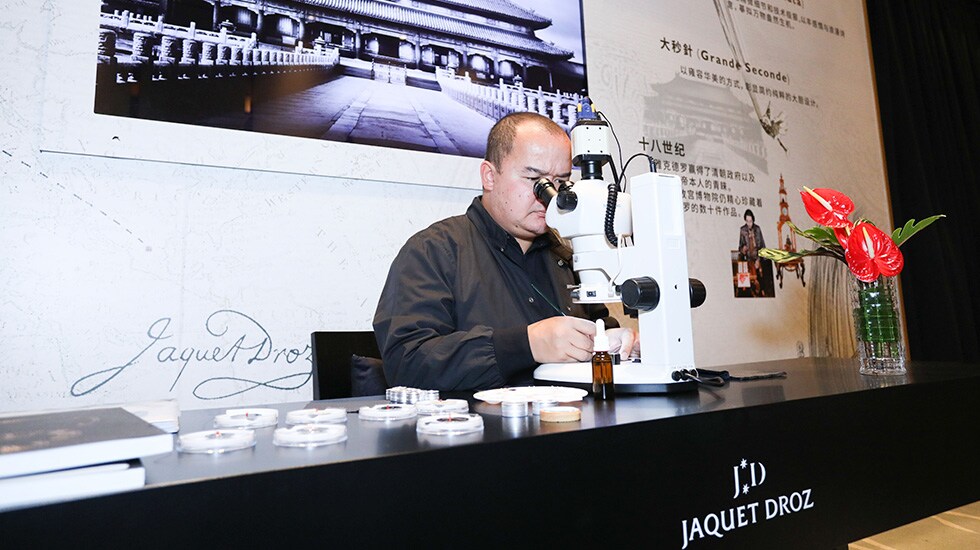 During the event, guests had a chance to meet one of the brand artist who came from Jaquet Droz artistic workshop in Switzerland to demonstrate the brand savoir-faire in craftsmanship. In addition Jaquet Droz prepared a surprise for its guests offering them the opportunity to practice themselves the art of miniature painting on a watch dial following the artist advice in a temporary art studio deployed for the occasion. This extraordinary event illustrated a perfect experience of the Art of Astonishment.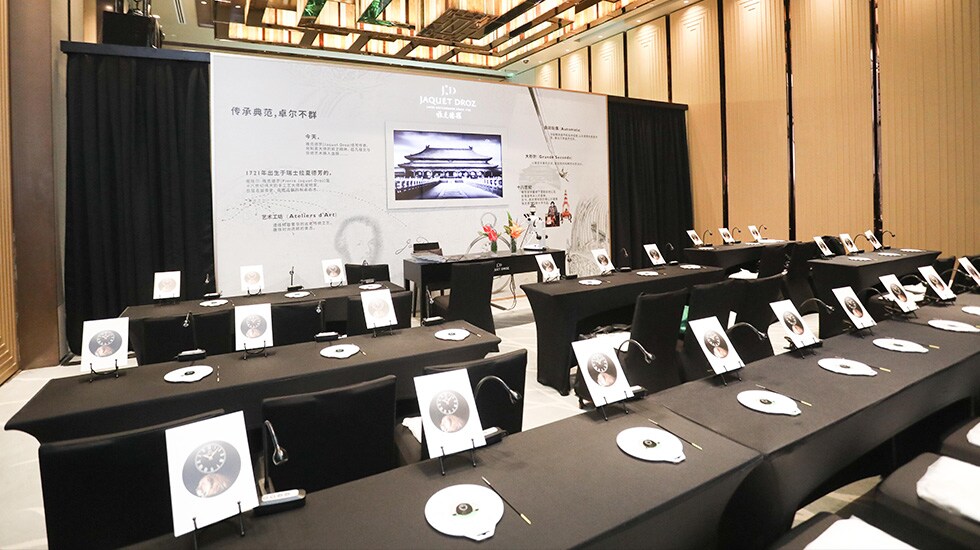 "Some watches tell time, some tell a story"