Four limited edition models inaugurate this meteorite collection, which is now available exclusively in Jaquet Droz and Tourbillon boutiques. The Grande Seconde Quantieme Meteorite and the Grande Heure Minute Quantieme Meteorite are both available in 39 mm and 43 mm versions and are part of an 88-piece limited edition, an exclusive supply that highlights the unique nature of each timepiece.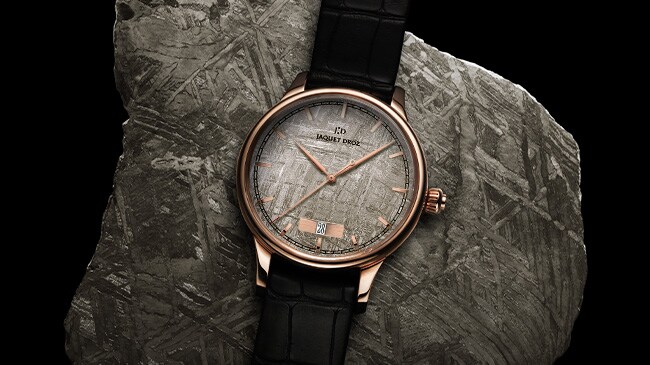 Marvel at the absolute originality of the Muonionalusta meteorite dial, proof of the importance that Jaquet Droz gives to minerals. More than four billion years old, this ethereal stone fell to earth approximately 800,000 years ago after a celestial collision. It is only in 1906 that two children discovered this ferrous meteorite near the banks of a river, from which it received its name. Having undergone four ice ages, the Muonionalusta is renowned for its magnificent Widmanstätten patterns, resulting from the stone's crystallization while in space. Hundreds of thousands of years spent journeying throughout the asteroid belt, located between the orbits of Jupiter and Mars, has accorded utmost originality to the Muonionalusta meteorite, giving each piece its inimitable character. A complex process is then required to transform this delicate and rare stone into an unparalleled watchmaking masterpiece: the beautiful engravings, the color and the cut of the dial are specific to each of the watches in this collection.
The 18-carat red gold case and indexes create a stunning contrast to the mineral, highlighting the mystery of its origin and time. The movement, visible through the sapphire crystal, is composed of a silicon spring, a supple and non-magnetic material that is impervious to changes in pressure, such as in temperature, guaranteeing the timepiece's optimal performance over time. Finally, an additional intimate finishing touch completes these radiant timepieces: the secret signature of a three-leaf clover engraved on the watch's movement.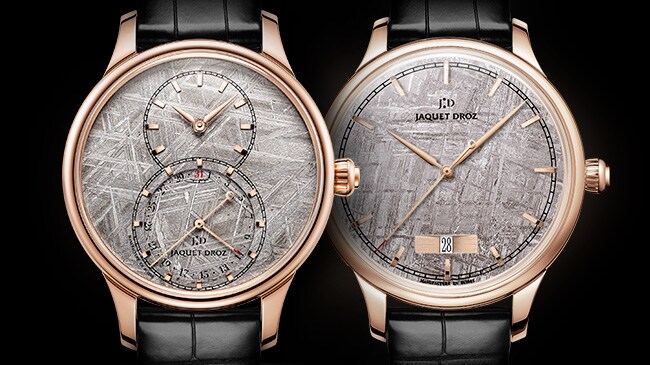 The Grande Seconde Quantieme, equipped with a "multi-tier" dial, imparts otherworldly grace to the iconic Jaquet Droz model. Admire the timeless elegance of the watch hand, as it indicates the current date, and the modernity of the indexes, which replace Arabic and Roman numerals, in this timepiece that embodies the perfect blend of outstanding craftsmanship and uncharted poetry.
As for the Grande Heure Minute Quantieme, this timepiece enriches the Astrale collection, taking the standards that comprise Jaquet Droz's singularity and expanding them to include the infinity of its celestial mineral. The red gold case is the ideal setting for this timepiece's three central watch hands and its 6 o'clock date display, making this model an affirmation of distinctive elegance.
This exclusive collection of meteorite models will satisfy those who wish to combine the art of extreme precision watchmaking with the infinite possibilities that transport us to the very core of the universe's mysteries.