Echoing the strong historical links that bind the famous watchmaker to the Middle Kingdom, the opening of the automaton exhibition, which is the only one of its kind, was celebrated in the well-known Shin Kong Place shopping mall, dedicated to the most prestigious international brands in fashion and luxury, including the Jaquet Droz boutique. At the heart of such an elegant and exotic setting, the most demanding watch lovers encountered the unveiling of the Tropical Bird Repeater: a piece of art truly brought to life, enhanced by hand with engravings and miniature paintings. David Lu, Vice President of Jaquet Droz in China, attended the ribbon cutting alongside Christian Lattmann, CEO of Jaquet Droz, who addressed an audience of journalists and dazzled enthusiasts.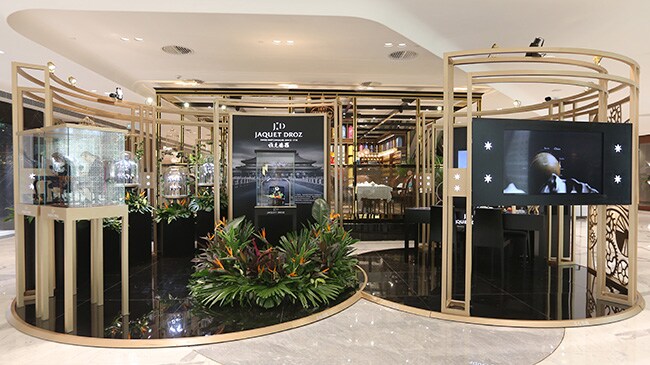 Guests also had the opportunity to discover more about the richness of Jaquet Droz's mastery, and to discover a selection of the House's most iconic models, combining craftsmanship and mechanical expertise. The Bird Repeater, the Charming Bird, the Loving Butterfly Automaton and the Lady 8 Flower as well as three exceptional automaton androids stored in China, showcase the strength of the tradition that Jaquet Droz has shared with the country for centuries. The founder of Jaquet Droz was the first western watchmaker to seduce the Qianlong Emperor and the court of the mysterious Forbidden City in the 18th century. Visitors were also able to learn about miniature painting techniques on enamel dials, thanks to one of the brand's artists who made the trip especially from Switzerland. This invaluable experience was offered to them as part of a workshop.
An exceptional watch displaying the entirety of Jaquet Droz's mastery, the Tropical Bird Repeater is more than just a timepiece. With a limited edition of only 8 pieces, this unique work of art exalts the beauty of nature and exotic reverie like no other, combining the best of the Ateliers de Haute Horlogerie in La Chaux-de-Fonds. A mesmerizing model that enchants the eyes just as much as the ears, thanks to the minute repeater striking the hours, quarters and minutes in synchrony with the seven automaton animations.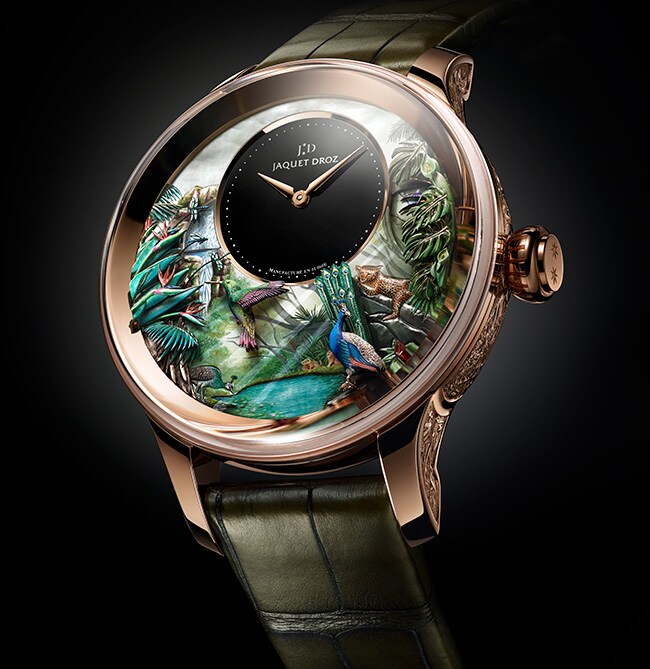 Contemporary, but at the same time rooted in a long history of travel and admiration dating back to Age of Enlightenment, the unique nature of the Tropical Bird Repeater deserved to be highlighted at its unveiling. Beijing was the obvious choice for Jaquet Droz to open the exhibition before the timepieces take off on a world tour.
"Some watches tell time, some tell a story"