On the occasion of its 280th Anniversary, Jaquet Droz inaugurated an exceptional exhibition that will be held from 4 to 15 April at PISA Orologeria, in Milan.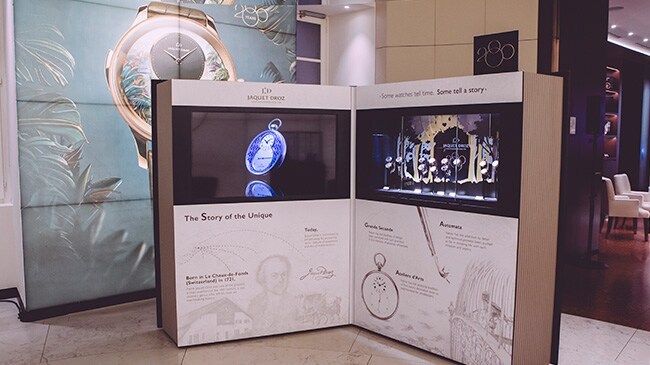 The exhibition "The Story of Unique" in the form of a giant book is an invitation to enter the enchanting world of Jaquet Droz, to discover the magic of Time through extraordinary creations blending design, materials and craftsmanship with the most incredible refinements of mechanical watchmaking.
The story of visionary genius Pierre Jaquet-Droz and his nature-inspired universe lives on in the desire to cherish this spirit of audacity, aesthetics and excellence, which today tells its own unique story in the world of luxury and fi ne watchmaking.
On April 5th, Mr. Christian Lattmann, CEO of the brand, officially inaugurated the exhibition with a welcome speech in the presence of Chiara Pisa, General Director of Pisa Orolgeria. Journalists and VIP clients have subsequently discovered the universe of the brand through the Grande Seconde, Ateliers d'Art and Automata collections, including the latest creation Tropical Bird Repeater which was unveiled for the first time in Italy.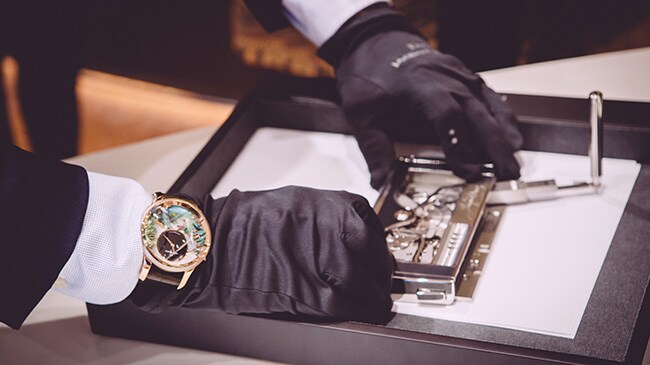 A mechanical wonder, this exemplar of fine watchmaking, with only eight models produced, took customers on a sensory voyage to a verdant tropical landscape featuring a waterfall and replete with flamboyant colors. In this decorative paradise, a hummingbird's wings beat at the exceptional speed of 40 times per second, an international first, alongside birds of paradise, a peacock displaying its plumage, leaves spreading to reveal a toucan opening its beak, and three dragonflies with phosphorescent wings. With seven total animations of unequaled realism, the hand-sculpted and hand-engraved details showcase all the mastery of Jaquet Droz. To add to this prowess, the minute repeater, a highly complex aspect of watchmaking, can chime the hour, the quarter hour, and the minute on demand through vibrating cathedral gongs activated by hammers inside the casing.
The Petite Heure Minute Smalta Clara watch from the Ateliers d'Art collection is the rightful heir to a legacy that dates back centuries. It uses plique-à-jour enamel in a manner unprecedented in watchmaking to depict a strikingly modern tiger motif on the dial.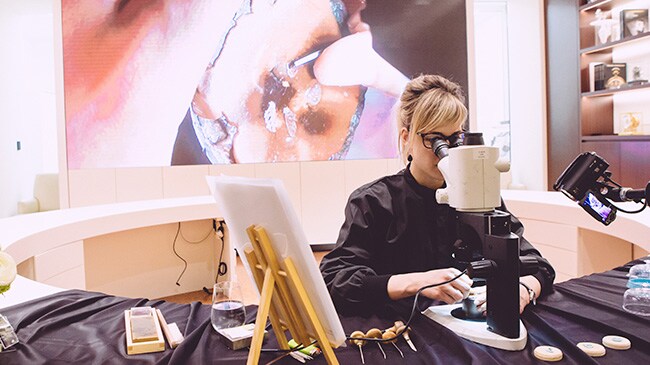 The Grande Seconde watch pays tribute this year to bold watchmaking, avant-garde aesthetics and a spirit of innovation, values that are firmly imprinted in the DNA of the brand. As Jaquet Droz celebrates 280 years, it is a fitting time to spotlight the watchmaker's first iconic model: an exclusive yellow gold version, limited to 88 pieces. This masterpiece of craftsmanship reveals the perpetual poetry of the art of time that renders every instant sublime.
"Some watches tell time, some tell a story"
Exposition «Story of the Unique »

from 4. to 15. April 2018

Pisa Orologeria
Via Pietro Verri, 7
20121 Milano
Italy