The ancient decorative technique is used to showcase floral motifs cherished by visionary naturalist Jaquet Droz: Fleur de Lys and Fleur de Vie.
The craft of paillonné enameling is as rare today as it was 300 years ago. It is practically a lost art. Three hundred years ago is also when the Jaquet-Droz dynasty was founded, and the company of the same name carries on the tradition to this day.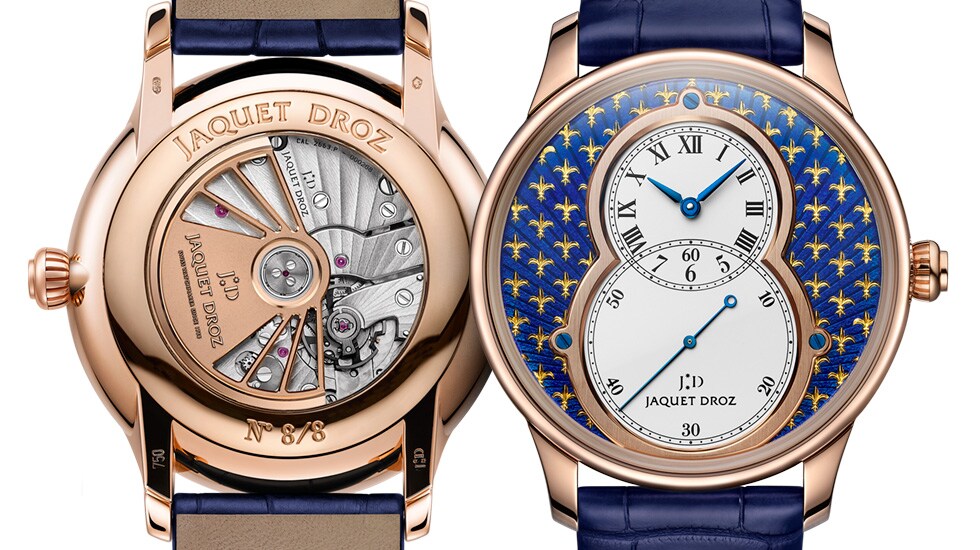 Today, these two legacies come together in an unparalleled way. They cross paths at La Chaux-de-Fonds, inside the Jaquet Droz Ateliers d'Art. Nestled at the bottom of this watchmaking valley is where the Maison's two latest watchmaking masterpieces came to life: the "Fleur de Lys" Grande Seconde Paillonnée and the "Fleur de Vie" Petite Heure Minute Paillonnée.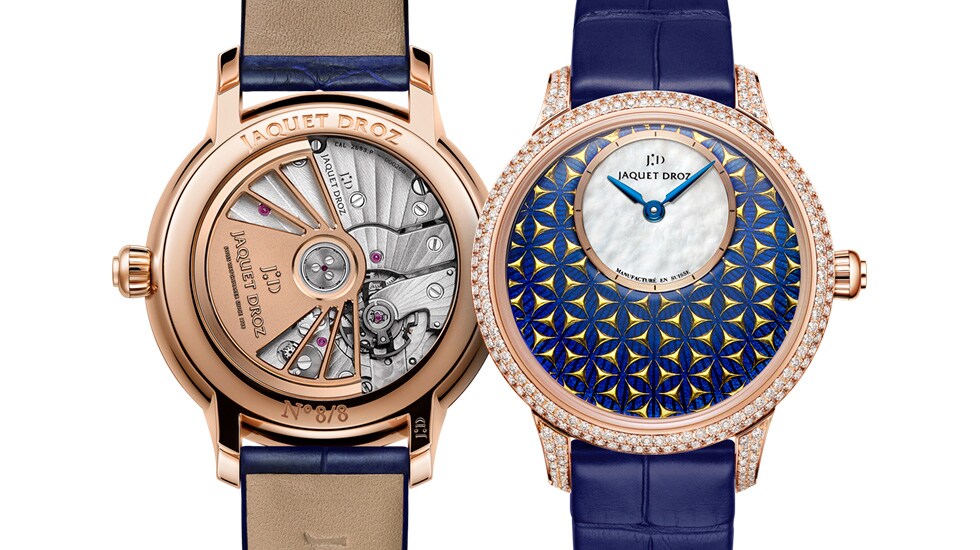 What sets these two red gold timepieces apart is the art of paillonné enameling, an age-old decorative technique. The concept is based on another decorative art special to Jaquet Droz, the one used in the Grand Feu enamel dials. First, guilloché work is done on a gold dial. It is then covered in translucent colored enamel that lets the guilloché patterns shine through. Next, several layers of enamel are applied, each one individually fired in the oven. Then comes the phase that demands the dexterity of Jaquet Droz artisans because every new layer of enamel and firing can introduce cracks or flaws, which would mean starting from scratch. At this stage, the piece still shows slight variations in color. It also depends on each firing process.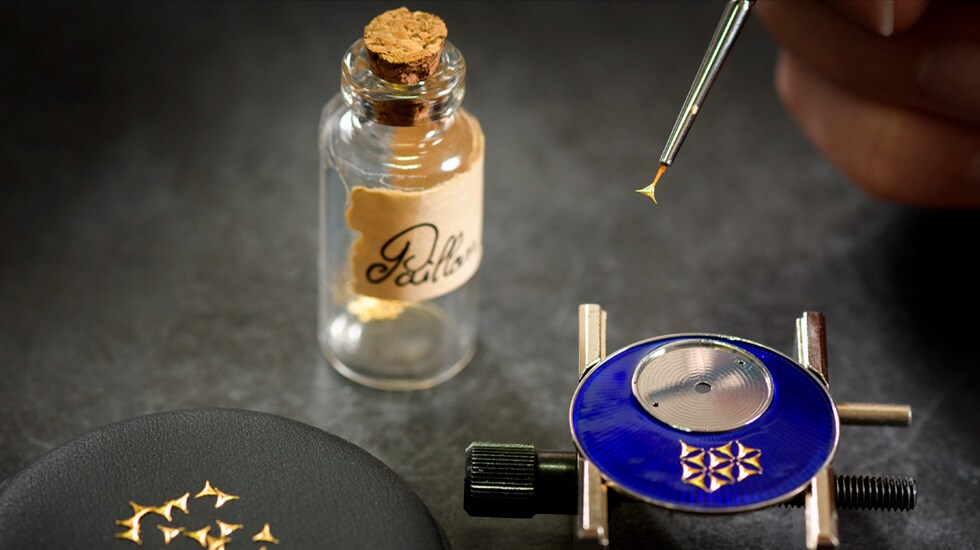 It isn't until the next phase that dainty motifs cut from a thin gold leaf, the paillons (or strips), are placed by hand one by one to create a figure. Once the design is done, the figures are also covered with another layer of enamel and fired in the same oven. This translucent coat will protect the paillonné motif for centuries to come, as if freezing it in place for all eternity.
Each of these new pieces is extremely limited to a Numerus Clausus series of eight, and Jaquet Droz opted for two distinctive ornamental designs: Fleur de Lys and Fleur de Vie. The former symbolizes kings and emperors. Emblems of a very long heraldic tradition, fleurs de lys are still found from France to Missouri, by way of England, Finland, Germany and Spain.
The latter, the fleur de vie, is a geometric design that has traveled through millennia and across cultures. It's a beautiful image representing the birth and growth of all living things on Earth. A cluster made of the golden ratio (a design formula for obtaining perfect proportions), it is comprised of overlapping interwoven circles. The form's perfection and finesse has been turning heads from Assyria to Egypt, by way of China and France. It was even a subject of Leonardo da Vinci's writing. These two new motifs now come alive in the heart of Swiss watchmaking at the Jaquet Droz Ateliers d'Art where the Maison still practices its Art of Astonishment.
"Some watches tell time. Some tell a story"