In the 18th century, the Jaquet-Droz family were pioneers in the art of luxury decoration. Through their work, they supported an entire generation of craftsmen. Enameled cases embellished with paillons, painting, sculpting and engraved ornamentation all contributed enormously to their success and fame.
To this day, the brand known by its twin stars offers discerning clients the opportunity to customize the dial of their timepiece to suit their taste and pay tribute to the tradition upheld by the Jaquet Droz Ateliers d'Art.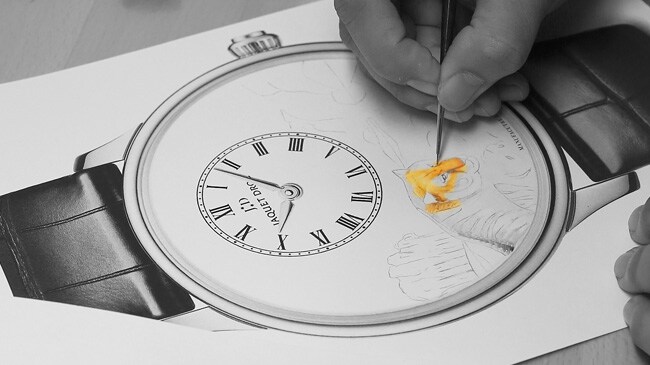 The Elegance of Privilege
Jaquet Droz invites you to draft a design for your own timepiece by customizing and creating a unique piece on request - taking the time to explore the brand's expertise and collaborate with its artisans. Prior to final validation, Jaquet Droz will need to communicate with you several times in particular with the model that will serve as a canvas for the design to be determined, as well as the craft techniques to be employed: enameling, painting, or sculpted and engraved ornamentation.
The Art of Enameling
Relying on the subtle interaction of ultra-fine powders and precision kilns, our master dial-makers are sole guardians of the formula that yields these magnificent dials, whose color and graining are absolutely unique. Once a piece is finished, it is inalterable. The enamel will retain its beauty and gloss for centuries, withstanding the ravages of time indefinitely.
The Art of Painting
Jaquet Droz wishes to honor the art of painting in the 21st century and uphold the traditions of its founder by applying this painstakingly meticulous decorative technique to a few remarkable pieces in its collection... The painter does everything by hand, with the aid of a microscope; it takes at least one week to produce each one-of-a-kind piece.
The Art of Paillonné Enameling
Paillonné enameling is a method of enameling that involves covering ornamental paillons (tiny motifs or paillettes, cut from gold leaf) with fondant (translucent enamel). It is a technique central to Jaquet Droz's traditional expertise. During the 18th century the company's founder transformed it into an art form.
The Art of Sculpted and Engraved Ornamentation
Drawing on a heritage of traditional skills that have been preserved with exceptional care, Jaquet Droz is reviving an ancestral technique to create several new decorative art masterpieces. Motifs, molded then sculpted, create the impression of relief. Also reflecting the trademark excellence of Jaquet Droz are the minutely worked hand-engraved designs, painted or left as they are, that take full advantage of the space on the mineral or gold dial.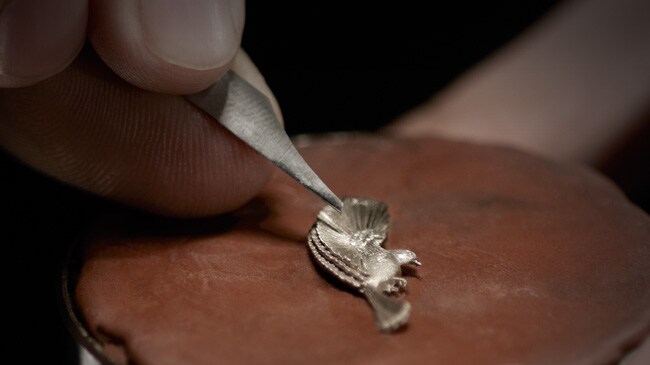 Minerals
Minerals were always a particular focus for Pierre Jaquet-Droz, who held them in special affection. They inspire a rare emotion, constantly experienced anew. Jaquet Droz captures the natural brilliance of stones, using them to decorate its watch dials and create a customized product: aventurine, bronzite, imperial jasper, lapis lazuli, meteorite, mother-of-pearl, onyx, ruby heart, spectrolite... Thus adorned, each mineral watch naturally becomes one-of-a-kind.