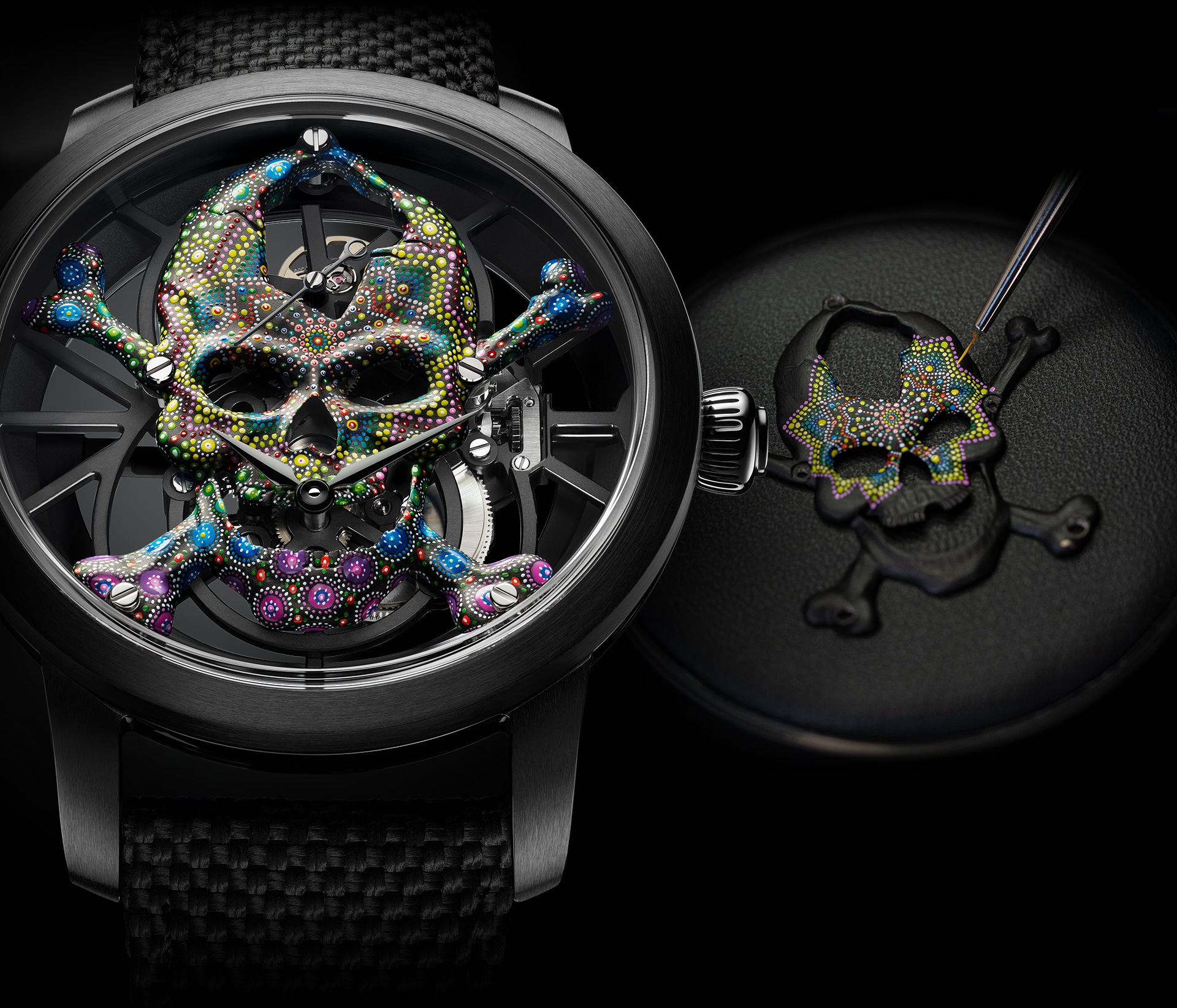 Tourbillon Skelet Ceramic – Skull Pointillism
In a new expression of life, time, and the art that links the two, Jaquet Droz has just unveiled a creative, disruptive timepiece that embodies its Philosophy of the Unique with a miniature, pointillist-painted Skull. The timepiece is the very first to use the technique in question, and as such draws Art and Fine Watchmaking even closer together. Over 3000 tiny dots of paint have been applied one by one, creating a unique piece that can never be duplicated.
Art and Time have something in common: both create connections between people that span eras, customs, and lifestyles. And Jaquet Droz has once again rewritten the rules of both, bringing to life a Unique Piece that establishes a dialogue between time and eternity. The Tourbillon Skelet Ceramic – Skull Pointillism introduces a whole new artistic lexicon in disruptive, unique and highly contemporary fashion.
The watch was designed and produced in Jaquet Droz's Ateliers d'Art. It all began with a wild and innovative idea: highlighting the ultimate symbol of carpe diem through the use of multiple colours and three dimensions. Such a pioneering idea was anything but standard watchmaking practice; a single, uniform colour, traditional painting techniques and realistic rendering were all out of the question.
Instead, Jaquet Droz went back to the basics of contemporary pictorial art, drawing inspiration from the late-nineteenth-century successor to impressionism, pointillism. Rather than attempting to provide an accurate representation of a scene, pointillism (also known as neo-impressionism) seeks to portray the feeling a scene exudes and the impression it makes on the onlooker. Colours and materials are used together to illuminate a specific environment and atmosphere.
The concept of illumination thus informed the design of the Tourbillon Skelet Ceramic – Skull Pointillism. To embody it, Jaquet Droz started out with its Tourbillon Skelet base. Exceptionally, the Skull, made entirely of gold, has first been painted black by hand – the only way an even matte finish could be achieved. The same is true of the ceramic case, also matte black in its entirety. Identical reasoning has been applied to both components: the case and the Skull are there to serve the painter and the work as a whole, forming the canvas on which the pointillism painstakingly created by Jaquet Droz's artists comes to life.
Extensive research, tests and trials were required to obtain the looked-for result, covering the type of pigments, their proportions, colour intensity, paint density, the number of coats, their proper adhesion to the movement, and their lifespan; then too, there was the challenge of painting vertical and highly curved surfaces, of which the Skull has a great many. Artists seldom have to deal with any of these variables, but by getting them to do so in association with its master watchmakers, Jaquet Droz has invented a whole new style code.
The exercise in pointillism alone required intense concentration, sometimes involving paint brushes with a single thin hair and practically no margin for error, given how close together some of the dots are – no more than a tenth of a millimetre in some places.
The pointillism painting on the Skull is brilliant in terms of both volume and colour, so close beneath the sapphire crystal that you feel you could touch it. Layer upon layer, one material on another, life sits atop death in an unending struggle – the tension between them palpable. The shifting battle lines are delineated by two central hands and a seconds hand at 12 o'clock, their course marked out by the Tourbillon frame. The Tourbillon Skelet Ceramic – Skull Pointillism is a unique work of art that will doubtless go on to inspire other pointillist pieces born out of individual collectors' personal preferences.
Inquire Now
From CHF 180,000.00
Including Swiss VAT