Grande Seconde Skelet-One Tourbillon « Only Watch »
An aesthetic and technical achievement, the first Grande Seconde Skelet-One with tourbillon, the first with plique-à-jour enamel, a new geometry of skeleton movement, a fully updated tourbillon... the Grande Seconde Skelet-One Tourbillon "Only Watch" is many things. It's also the perfect match between an age-old complication and craftsmanship on the one hand, and an eminently modern technique and geometry on the other. A rare, precise balance, like any Jaquet Droz timepiece, which foreshadows all the ambitions of the Maison's future Skelet-One collection.
Discover more about this exceptional piece
Set of two 'perpetuelle' self-windind Jaquet-Droz watches, quarter repeating with centre seconds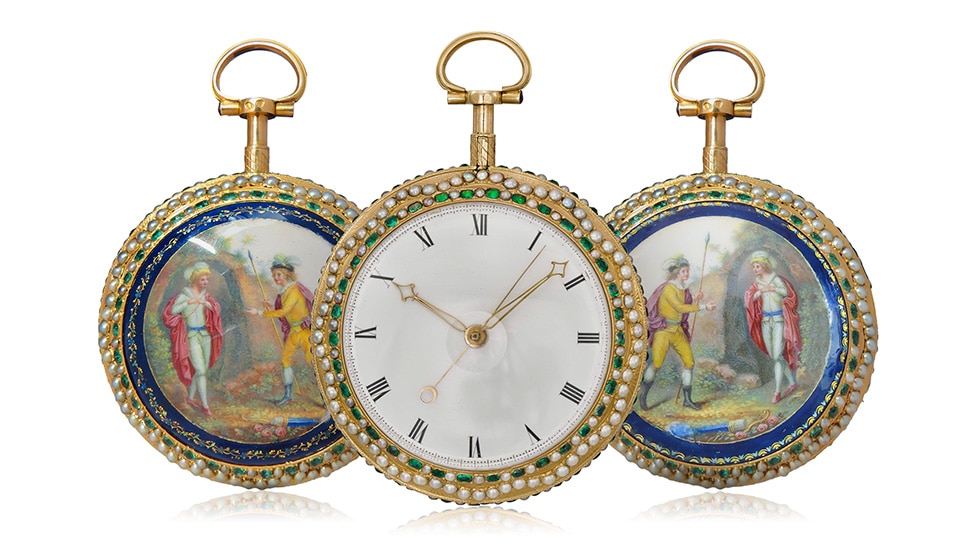 Signed Jaquet Droz, london, circa 1785, made in switzerland and retailed via london for the chinese market.
Movement: Frosted gilt, full plate, ogival polished gold oscillating weight pivoted at the circumference and oscillating between two steel spring bumpers, going barrel, transmission to the mainspring barrel via three wheels, cylinder escapement, balance with flat balance spring, pierced and chased foliate cock with polished steel endplate, repeating on a bell in the back of the case (for both watches)
Dial: White enamel, gold pierced hands (for both watches)
Case: Two-body, the bezel hinged through the pendant released by a concealed push-piece in the band at 6 o'clock, the bezels and band entirely set with split pearls and gems, the back set with a finely painted on enamel panel depicting figures in a landscape within a gold paillon border, 63 mm. diam. (for both watches)
"Some watches tell time. Some tell a story"