Two new Lady 8 Flower models with automaton by Jaquet Droz present a poetic vision of feminine watchmaking: tender, sensual and secret.
The Lady 8 Flower by Jaquet Droz marked a turning point in the history of the brand when it was unveiled in 2015: the very first Automaton collection fully dedicated to women, this ex nihilo creation tapped into some 280 years of experience in designing exceptional timepieces. The Lady 8 Flower draws on a legacy of mastery in mechanics of which Jaquet Droz is one of a handful of custodians. It conjures up the essence of Fine Watchmaking: creativity, precision and mechanical mastery, with the signature Jaquet Droz touch – the Art of Astonishment – handcrafted by specialized artisans. And finally, Lady 8 Flower is an expression of the naturalism that permeates the brand's work and can be traced directly back to the creations of Pierre Jaquet-Droz almost two centuries ago, in his bird cages, snuffboxes, and numerous richly decorated automatons.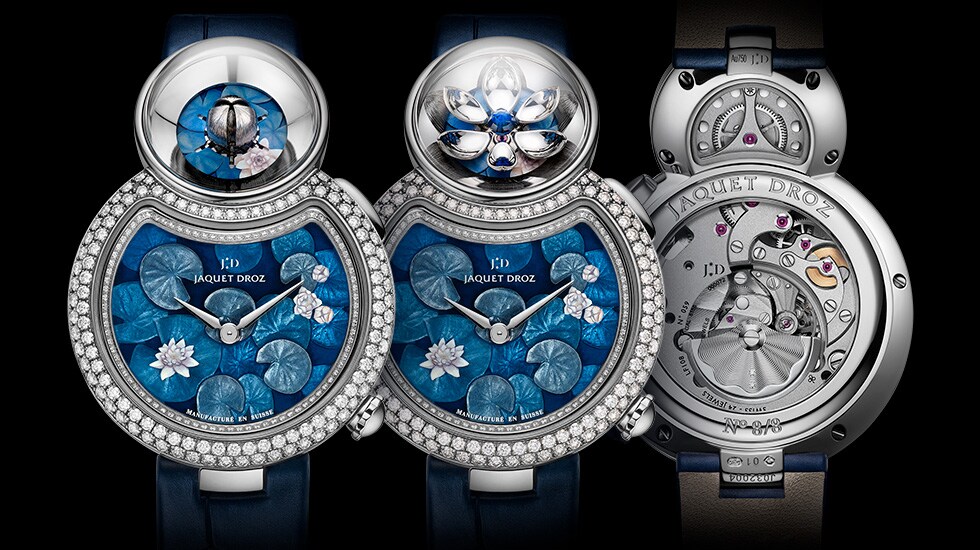 This rich heritage is honored in the two latest incarnations, each issued in a Numerus Clausus edition of 8 pieces, with floral motifs that honor the naturalist tradition. In the white gold variation, the Lotus is chosen as a spiritual symbol that represents beauty and the cycles of life. These values fuse seamlessly with the signature Jaquet Droz figure 8, a symbol of perfection and harmony formed by the watch dial overlaid with the dial of the automaton.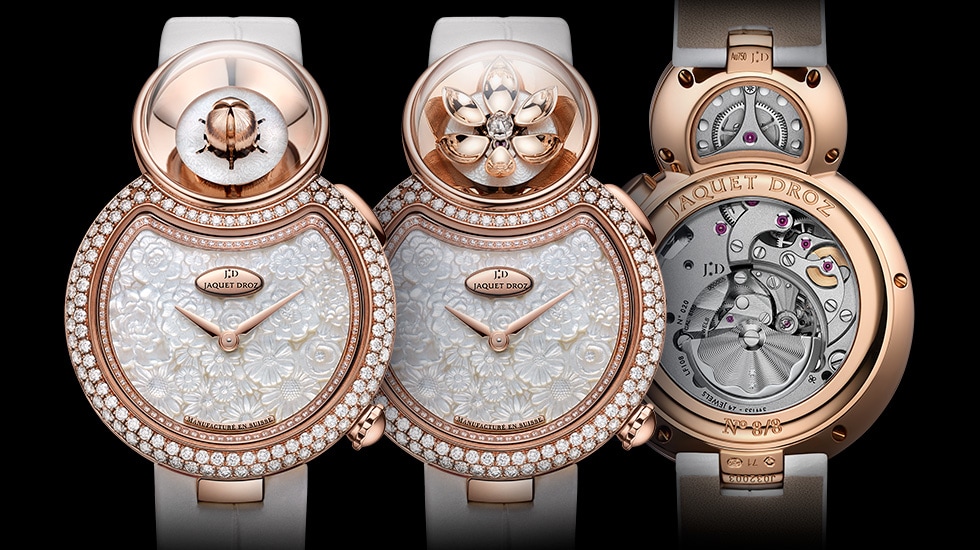 It is on the watch dial that Jaquet Droz showcases its artistic skill. A pair of hand-crafted gold hands sweep across a dial decorated with floral motifs. In the white gold model, the dome-shaped Grand Feu enamel dial blooms with Lotus flowers engraved in bas-relief. The intensity and depth of the palette of blues are tweaked by adjusting the amount of enamel powder applied in each firing. The final step is to carefully polish the surface of the dial to produce a perfect dome shape. The second dial showcases a lace-like bouquet of flowers carved from mother-of-pearl. Each model is set with 249 diamonds on the bezel, ring and buckle.
The automaton is positioned at the top of the Lady 8 Flower, animated by a pusher at 2 o'clock. When the pusher is pressed, it activates a lotus flower with gold petals that open to reveal either a diamond or a sapphire. The precious stone is also animated, swiveling in opposite directions as the Lotus opens and closes to display every facet of the glittering briolette cut. The 8-second animation is in perfect harmony with the serenity of the Lotus on the dial. The Lady 8 Flower poetically evokes the tender secret a woman reveals to her beloved, in captivating soft curves designed to elicit the Art of Astonishment.
"Some watches tell time, some tell a story"