Two springs ago Jaquet Droz conceived its first creation for ladies in the Automata collection—the Lady 8 Flower. A symbol of watchmaking expertise, this fascinating piece encases an enamel butterfly that illustrates the exceptional ornamental skill which the brand has been cultivating since its foundation in the 18th century. Today's new Lady 8 Flower, embellished with even more jewels, is a mechanical chef-d'œuvre that leaves both mind and soul spellbound, caught up in the whirling lotus flower and the enchanting nirvana portrayed on the dial. Assembled by hand in the Jaquet Droz workshop in La Chaux-de-Fonds, this exclusive timepiece epitomizes the artistry for which the brand is known.
Under the sapphire crystal dome, the precious, sculpted lotus flower delicately comes to life through a stunningly virtuosic mechanism: with the gentle press of a pusher on the watch's side, the flower blooms and closes in a splendid, serene display, while, at its center, a briolette arises to join the dancing petals on their mother-of-pearl stage. Gentleness and poetry emanate from the curves of the Lady 8 Flower—whose two joined dials form a figure eight, the symbol of infinity and splendor in Asian cultures—and from the oscillating weight, crafted in an elegant fan shape.
The Lady 8 Flower also embodies technical sophistication, the counterpart to the simplicity of the naturalist elements. With a 38-hour power reserve and miniaturized mechanisms, it is the worthy heir to Jaquet Droz's automata. The culmination of a long quest for perfection, the two independent mechanical movements dance harmoniously: the hour and minute hands mark the tempo, while, on another stage, the floral automaton springs to life with its curved and polished silhouette whenever the spirit moves the wearer.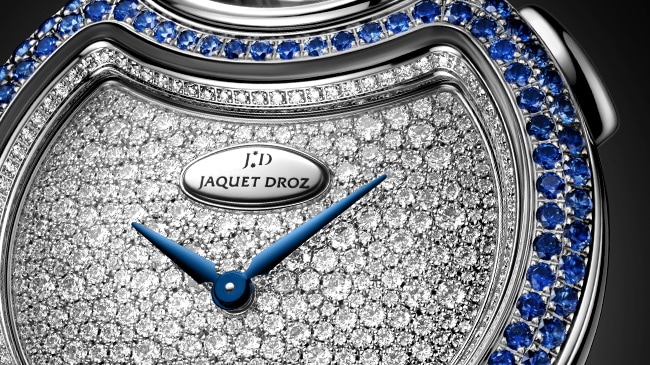 On the dial, the blue steel hands advance in a gesture perfectly woven into the rounded contours of their setting. Arrayed with a blue sapphire-adorned rehaut and a deployment clasp set with diamonds, this jewel also reveals its inner workings through the sapphire crystal on the back, for everlasting magic.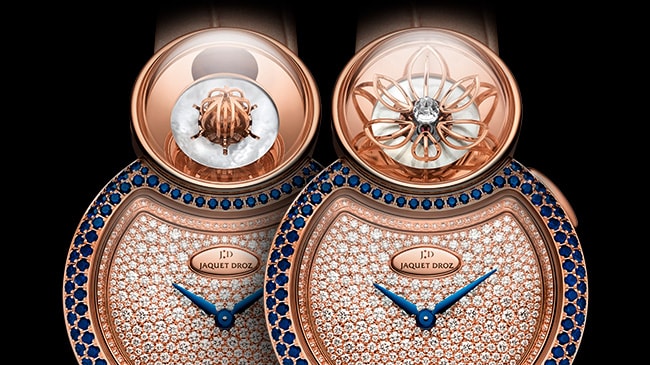 An experience of the most captivating kind, the Lady 8 Flower tells the story of a dance, a performance, a secret where art, travel, and dreams converge. The essence of luxury, this exclusive timepiece is offered this year in white gold and red gold, enhanced by a limited edition of eight pieces…eight delights…eight infinities still to write…
"Some watches tell time, some tell a story"