Congratulation to the new owner of Jaquet Droz Singing Bird Scent Flask. This exceptional automaton was one of the centerpiece of Sotheby's watch auction yesterday in New York. It has been sold for $2,530,000 breaking a new record for a Jaquet Droz antique piece.
After it was created by Pierre Jaquet Droz & Leschot about 230 years ago, the brand is proud to see this astounding automaton joining a new collection as an exceptional piece of art. It represents perfectly the historical savoir-faire of Jaquet Droz that the brand continues to perpetuate today in its Atelier de Haute Horlogerie in La Chaux-de-Fonds.
The automaton features an articulated ivory bird – measuring just 12 millimeters tall – which is accompanied by a highly intricate, miniature organ to replicate the bird's song. The superbly-decorated and constructed scent flask is covered in enamel and jewels, centered by a recessed medallion with a magnificent scene that showcases varicolored gold sculpture representing a branch with leaves with the singing bird automaton perched atop.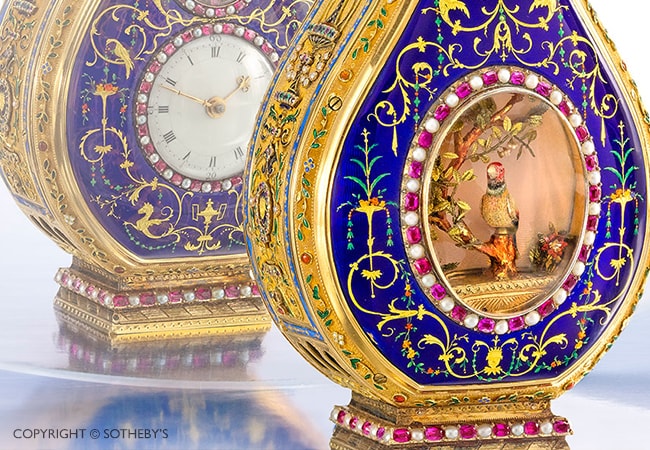 The Case
The case of flattened pear form, one side with white enamel dial below an oscillating diamond-set balance, the other with a recessed richly painted singing bird perched on a leafy branch against a background of translucent pink enamel, bezels and borders of alternating rubies and half pearls, all surrounded by Renaissance-style gold paillon arabesques with birds and grotesques and urns of fruit over a translucent blue ground, the sides chased with similar ornament, partly enameled and set with rubies, emeralds, diamonds and sapphires, the top scent compartment with stopper combined with a watch key, enameled on both sides en suite, the stopper base stamped PG below a crown, the base with hinged mirror-lined compartment.
The Bird and Serinette
The bird [12 mm high] produces its song via a six pipe organ composed of two groups of three pipes following the curves of the case, the song is conveyed via metal tubes with compressed air from the bellows to the pipes and distributed by a pinned cylinder operating six valves; when activated, by a small gold button, the bird realistically sings, opens and closes his beak, swivels his body whilst his tail moves up and down.
The Watch
Gilt brass verge movement with fusee, white enamel dial, Roman numerals, gold hands, the timepiece and balance mounted on a shaped foliate scroll engraved cartouche plate, winding arbor below the dial at 5 o'clock, the dial and balance visible through glazed apertures on the hinged covering panel. Length overall 16 cm (6.2 in), height of singing bird 12mm. Made in 1786, the singing bird scent bottle is adorned in rubies, pearls and enamel and features a meticulously painted ivory automaton bird.