Jaquet Droz is launching new exclusive watchmaking creations in collaboration with John Howe, a legend of fantasy art, illustrator and conceptual artist of Peter Jackson's Lord of the Rings and Hobbit trilogies.
Each Jaquet Droz creation contains some element of mystery. It can be found in the imagination of its creator, in the execution of its artisanal techniques or in its symbolic meaning. Each timepiece has its own story, its own magic and its own narrative universe, but the latest Jaquet Droz creation might just be the most unique to date. For the first time, the Maison has not only taken its inspiration from its rich heritage and creative team, but has worked alongside an independent artist during the creative process of the piece, an artist of immeasurable talent: John Howe.
An illustrator and conceptual artist who has heavily influenced contemporary cinema, Howe, 62, was born in Canada but has lived in Neuchâtel, Switzerland for over 30 years. He is world-famous for having created the visual universe of Peter Jackson's Lord of the Rings franchise: The Fellowship of the Ring (2001), The Two Towers (2002) and The Return of the King (2003), which was followed by The Hobbit trilogy: An Unexpected Journey (2012), The Desolation of Smaug (2013) and The Battle of the Five Armies (2014). John Howe helped instill these sagas with extraordinary creativity and grandiose landscapes, designing an awe-inspiring setting to bring Tolkien's work to the big screen.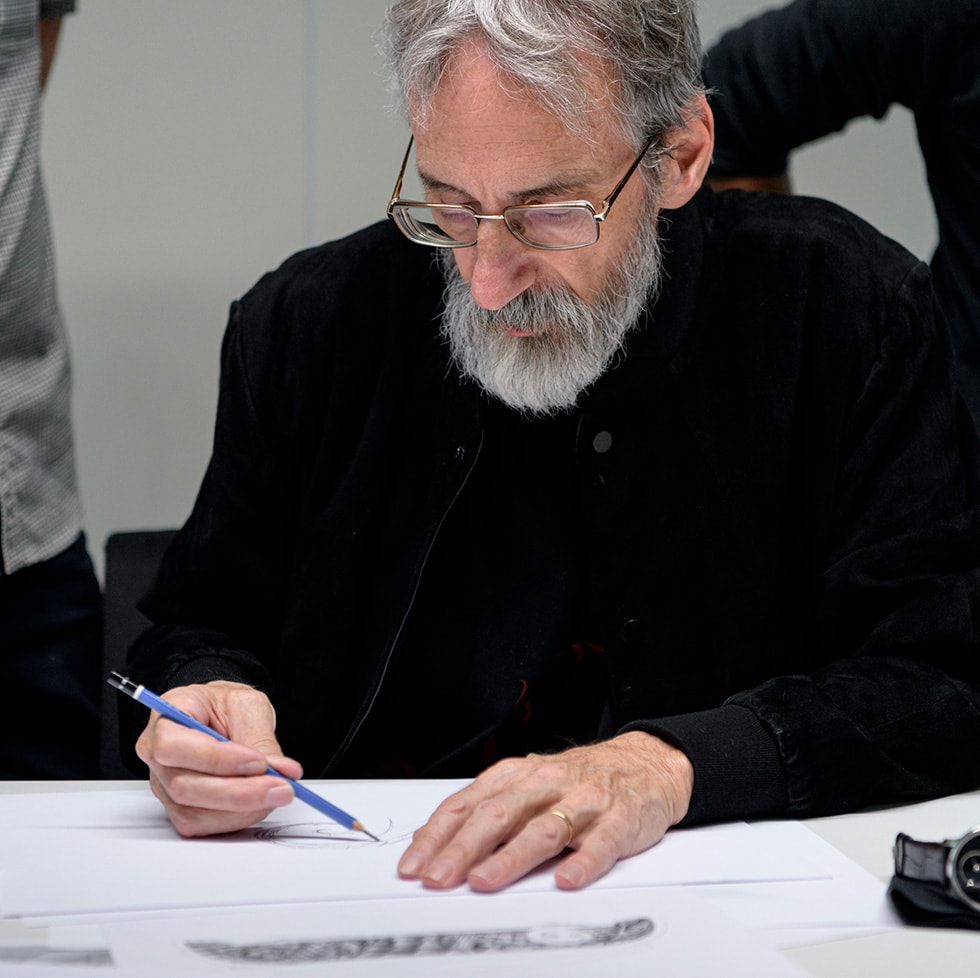 With the utmost discretion, Jaquet Droz and John Howe have been working together for several months on the creation of an exceptional new timepiece. Despite his busy schedule—a Lord of the Rings TV series is currently being produced in secrecy in New Zealand—John Howe immediately accepted to collaborate with the Maison. It was the first time the prominent illustrator and conceptual artist had been approached by a Fine Watchmaking brand, but it didn't take him long to find his place at the Ateliers Jaquet Droz. Not unlike a movie production, John Howe worked alongside artists and craftsmen, one scene at a time. Along the way, he encountered new constraints, those of haute horlogerie, making the process all the more interesting.
"Our creations are usually completely designed in-house, thanks to our highly skilled techniques that span the entire creative process" explains Christian Lattmann, CEO of Jaquet Droz, "but for this new endeavor, we were fortunate enough to work with John Howe. He lent us his incredible talent and gave us a glimpse into his unique universe, giving life to exceptional projects which are sure to amaze."
"The craftsmen and designers at Jaquet Droz strive to bring together precision, poetry and light in their meticulous work when it comes to materials and movements, something I particularly appreciate. The technical constraints further stimulated reflection and creativity. Collaborating with Jaquet Droz, renowned for its great creativity, proved to be challenging - but most of all, a real pleasure," explains John Howe.
"Some watches tell time. Some tell a story"