The Dragon Automaton - Sapphire-Lapis Lazuli was designed with John Howe, artistic designer of Peter Jackson's "Lord of the Rings" and "The Hobbit" trilogies. With this creation, Jaquet Droz strove to draw Art and Watchmaking closer together, breaking the codes of both to produce a new blend of creative disruption.
The symbol of the Dragon goes back thousands of years, spanning every era, continent, and culture. It is crafted in grey gold, hand-sculpted and then polished. Each part is individually engraved to form scales and claws.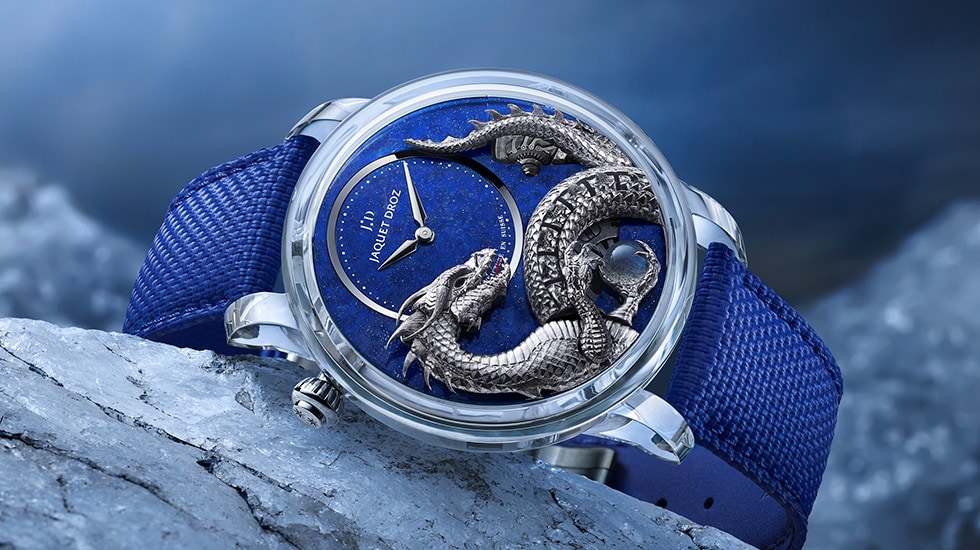 The animal is depicted on a single-surface Lapis Lazuli dial, and the highly contemporary case is made entirely of sapphire crystal with a diameter of 45 mm. Although perfectly watertight, it has no visible screws or inserts, rendered superfluous by the micron-perfect fitting that only Jaquet Droz masters.
To emphasize the modernity of the timepiece, Jaquet Droz proposes fitting the Dragon Automaton - Lapis Lazuli with a rubber strap in the same blue as the dial. That is just a suggestion, though: ultimately, it will be up to the future owner of the unique timepiece to decide on its finishing and engravings.
"Some watches tell time. Some tell a story"