A universally symbolic creature cherished by the world of Jaquet Droz, the singing bird now appears in two new versions which put mechanical virtuosity hand in hand with contemporary poetry.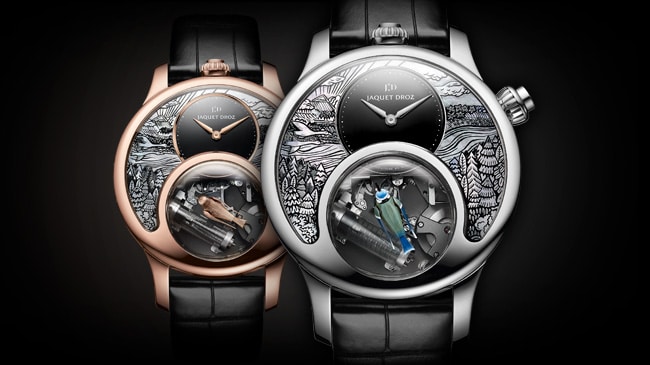 Hailing from a family of peasant-watchmakers during the Age of Enlightenment, Pierre Jaquet-Droz (1721-1790) embraced the vast naturalist movement so prevalent amongst 18th-century scientists, artists and philosophers. Sensitive to the beauty of plants and the animal world, he was the first watchmaker to introduce a singing bird on a pocket watch – a virtuoso complication also used as an ornament on snuffboxes and other objets d'art which captivated a cosmopolitan clientèle from Madrid to Beijing. True to this spirit, the brand known by its twin stars recently presented two exceptional models with miniature automata that combine the best of its Ateliers d'Art: the Bird Repeater and the Charming Bird, which was awarded the Mechanical Exception prize at the 2015 Geneva Watchmaking Grand Prix (Grand Prix d'Horlogerie de Genève).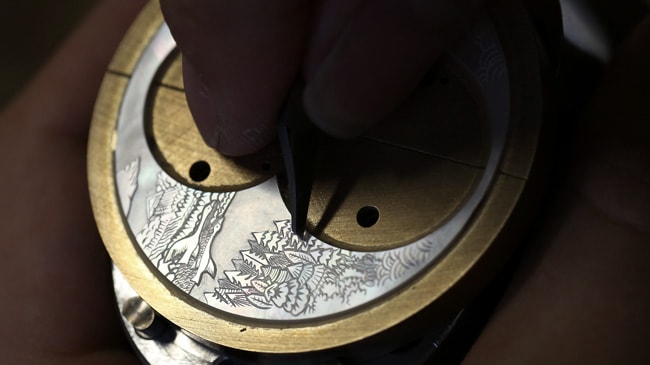 The brand's craftsmen have reinvented the cult dial of the Grande Seconde and its tutelary 8, devoting the upper section to displaying the hour and minutes and the bottom to a veritable singing bird, a small wonder housed within a sapphire crystal dome. Jaquet Droz now reaffirms this effort by unveiling a unique version of the Charming Bird, in which the dial is adorned with delicate mother-of-pearl for a captivating and refined aesthetic.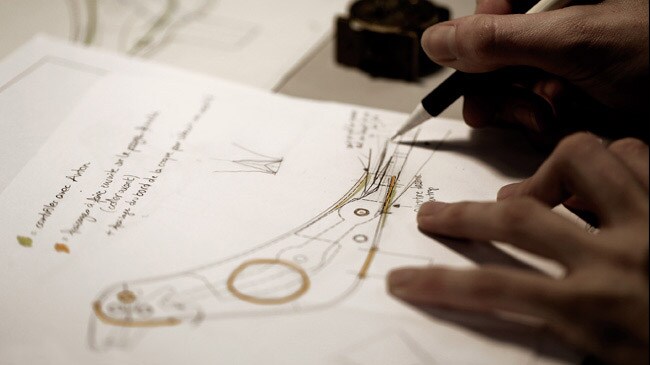 A technical feat – with two different mechanisms driving the Charming Bird, both patent-protected – this watch required years of research and development, all geared towards introducing two major innovations. For one, the song of the tit bird is now generated by air compression and not by vibration, an innovation made possible by introducing three minute sapphire crystal tubes. Air enters the first tube, then is stored inside the second and finally pushed into the third, thus regulating the melody according to the volume of air and the speed of the piston. On the mechanical side, the regulator harnesses a magnetic effect in order to prevent any contact between the metallic components and to eliminate auditory interference within the watch. The miniaturization of elements and the extreme mechanical complexity of the Charming Bird are matched only by its aesthetic sophistication, a result of the well-honed expertise of the Ateliers d'Art.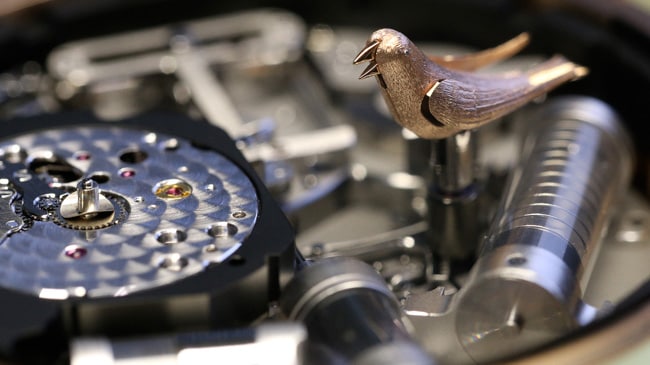 This is the case not only for the tit bird, a truly miniaturized sculpture, but also for the entirely hand-decorated movement and the background of the dial, in which hand-painted and engraved mother-of-pearl evoke the landscape of the Swiss countryside, a historic Jaquet Droz motif. The traditional technique of paper cutting inspired this representation, which brings together the peak of expertise in engraving and miniature painting skills, the only means of producing the astonishing richness of detail in this work of art. At last, the beautiful elegance of volume is given center stage on the striking 47 mm case, presented in a choice of either red or white gold, with each version limited to 8 unique pieces. A rare opportunity to offer oneself pure Jaquet Droz watchmaking excellence, as well as an ultimate, intangible luxury: the sweet song of Time itself…