In 2012, The Bird Repeater featured two blue tits and their young – birds close to the heart of the company's founder Pierre Jaquet-Droz. This remarkable model reaffirmed the virtuoso expertise of Jaquet Droz, passed down from the 18th century and realized here in miniature. The following year, The Charming Bird watch marked the brand's 275th anniversary with a new interpretation of the bird in an ultra-modern decorative setting and this time singing.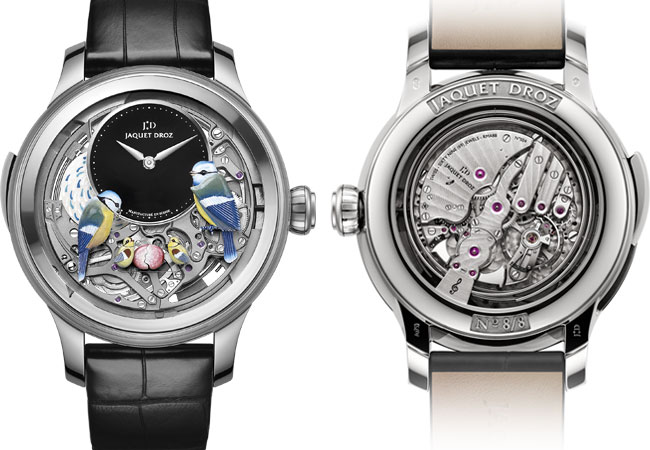 Now, the story continues with a previously unseen version of The Bird Repeater – a more streamlined, contemporary-looking model that has nonetheless retained intact the animated features that made it a success: a duo of blue tit birds feeding their fledglings, the spreading wings, the tumbling waterfall and the hatching egg. It displays a poetic naturalism all the more surprising for the subtle aesthetic changes that the Jaquet Droz craftsmen have decided to make in the name of modernization.
Behind the sapphire crystal dial, the automated movement has been "exposed" so that each of the colored animations are more visible and the components of the black, anthracite and gray automaton are revealed. This new depth and contrast in color enhance the artisans' work and accentuate every minute detail – the feathers, the eyes, the curve of the bird's body, the flowing water – as well as the delicacy of the engraving and paint work.
The new Bird Repeater comes in white gold on a black alligator leather strap. It is the ultimate expression to date of the Jaquet Droz spirit, merging historic watchmaking tradition and avant-garde design. The Bird Repeater Openwork is available as a limited edition of eight pieces, each one equipped with 508 components.