ZhongRui DaoHeSaiShang
Répétition minutes
Designed by Shirley Zhang

Micro Paint Enamel of Feitian
Engraving Grottoes of Dunhuang

Feitan and Dunhuang represent the essence of Chinese art. The art of Dunhuang covers more than ten major genres, such as architecture, stucco sculpture, wall paintings, silk paintings, calligraphy, woodblock printing, embroidery, literature, music and dance, and popular entertainment. This watch perceives an exploration of the kinship between a set of designing principles steeped in the vast and ancient Eastern culture, and the values of a Western establishment that specializes in technical precision and understated elegance.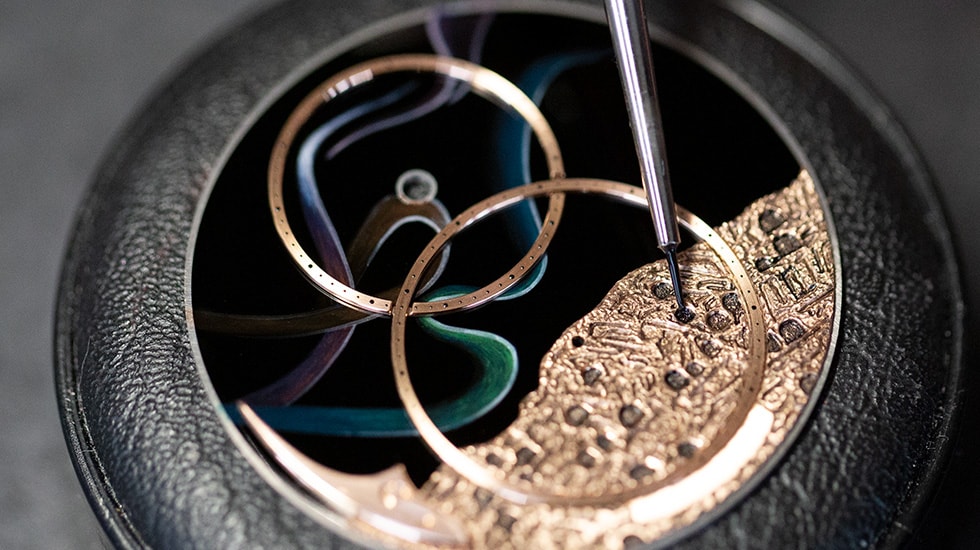 Shirley Zhang, an international jewelry designer who uses enamel art to connect Eastern to Western cultures, expresses her perception of life in the most poetic and aesthetic way in countless classic jewelry creations.
This time she has collaborated with Jaquet Droz to present the art of Grand Feu enamel thought a timepiece equipped with a minute repeater automatic movement. She has combined the philosophical essence of the Chinese Taoist school with the Jaquet Droz brand identity. The sky and the earth, movement and stillness, rigidity and softness, time and space are perfectly balanced on the dial. It is ethereal and shocking. The collection is limited to 8 unique pieces only.
"Some watches tell time. Some tell a story"