Adorned with a lotus flower that unfurls its petals on request, the new version of the Lady 8 Flower is an aesthetic and mechanical feat embodying all the exceptional design codes of the brand known by its twin stars. The true luxury of emotions at their height…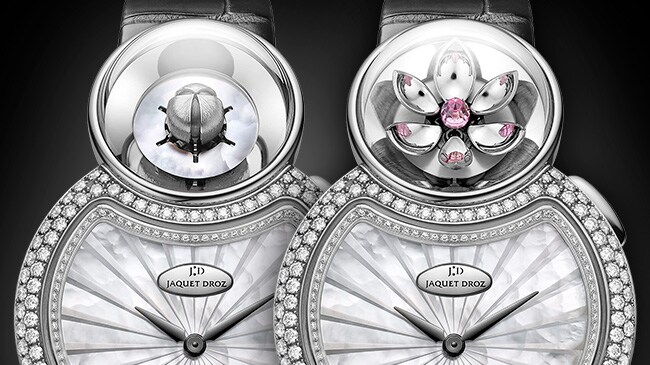 The first ladies' watch by Jaquet Droz, the Lady 8 instantly distinguished itself in the watchmaking realm on its launch in 2013. Its sculptural form evokes the figure 8 – the brand's tutelary number and a symbol of completeness and infinity – and, following the great tradition of naturalism and the inventive animations of Pierre Jaquet-Droz (1721-1790), it was enhanced by a flower automaton that adds refinement and heightens the Lady 8's power to enchant. In 2016 the Lady 8 Flower prolongs the fabulous tale of mechanical and ornamental virtuosity that has marked out Jaquet Droz's uniquely distinctive art of astonishment since the Age of Enlightenment.
The Lady 8 Flower is first and foremost a spectacular vision that dazzles the beholder with its two superimposed dials and its soft lines. It manifests the most beautiful simplicity in the roundness of its curves and the lower dial crafted in slightly convex mother-of-pearl. Fashioning such a dial is a veritable feat, considering how fragile this material is, with its myriad shimmering light effects set off by the meticulously worked hands and a guilloché sunray pattern on the white gold model.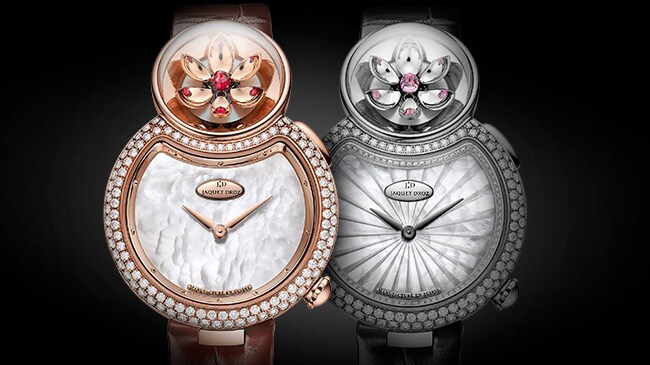 Even these creative heights are surpassed by the spectacular upper dial. The lotus flower symbolizes peace and refinement in Asia, where it is sacred to some cultures. This living flower that opens and closes with the passing days and nights has fascinated poets, painters and botanists since time immemorial. Here, it is sheltered under a sapphire crystal dome. Simply press the push-button at 2 o'clock, and it opens: the six gold petals – polished and satin-brushed by hand – unfurl to reveal a twirling briolette-cut sapphire or ruby in the heart of the lotus flower, illuminating the gold of its petals. Then, very gently, they close again, the better to guard their secret, inherited from age-old jewelry-making traditions passed down within Jaquet Droz. It creates a fascinating effect, just as when Pierre Jaquet-Droz's first automata were presented to the 18th-century Royal Courts.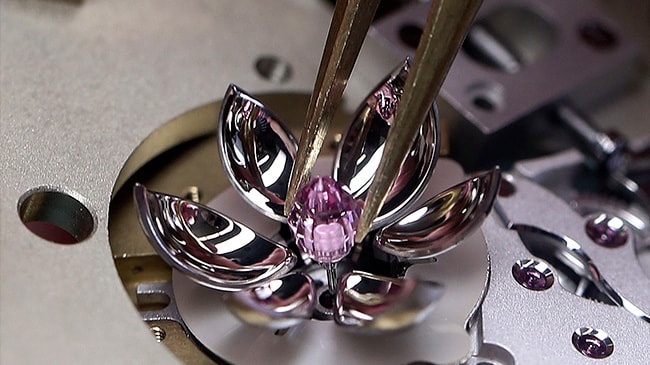 Astoundingly meticulous research and miniaturization were required as two separate movements drive this watch. Both of them are entirely visible through the back, along with a pirouetting oscillating weight inspired by the beautifully feminine graphic motif of accordion pleats. The Lady 8 Flower this year possesses a 38-hour power reserve and offers a choice of white or red gold, each version limited to only 8 pieces. A distinctly symbolic number, embodying in these new models the rarity of true luxury and the unexpected magic of a genuine accomplishment.