Jaquet Droz pursues its exploration of Automata with The Poete, a contemporary and educational android that takes up the gauntlet of the firm's signature Art of Astonishment.
Mechanical skill is usually associated with watchmaking; Jaquet Droz is one of the world's first watchmakers to extend this creativity to automata. Pierre Jaquet-Droz constructed his first three animated works between 1767 and 1774, buoyed by the spirit of the Enlightenment. Alongside the Encyclopedia and the boom in science and arts, he set about using his skill to take on the challenge of imitating life.
The automaton, like the watch, is the most sophisticated marriage between artistry and technical skill. Therein lie the foundations of Jaquet Droz –so much to keep the Art of Astonishment alive over the centuries. The brand's recent contributions to this cause include the Bird Repeater (a fully animated timepiece), the Charming Bird (the first miniature singing bird on a wristwatch), and the Lady 8 Flower (the brand's first dedicated ladies' automaton). In 2013 a new android, Charlie, represented a new highlight in carrying the torch of over 250 years of humanoid creations.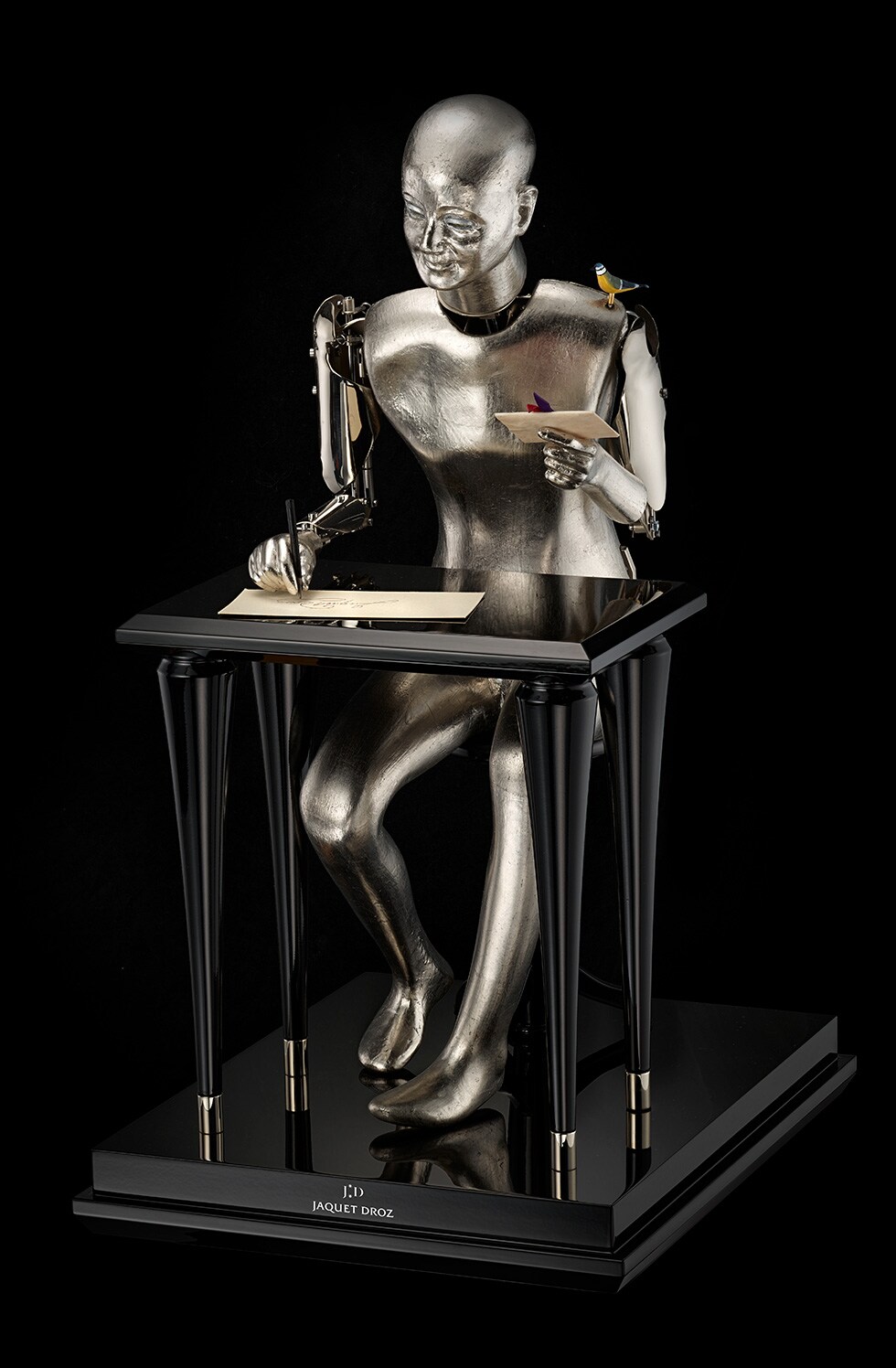 For its 280th anniversary, Jaquet Droz marks yet another milestone in this history. Following on from the Writer, the Musician and the Draughtsman, the original three automata by Pierre Jaquet-Droz, the brand unveils the latest addition to this timeless family: the Poete.
Like its three predecessors, this mechanically animated sculpture will be issued in a limited edition of eight pieces. It brings to life a 40cm-tall figure of a poet at his desk. A bird on his shoulder pivots, appearing to whisper inspiration into his ear, as a background melody is played by a music box housed inside the Poete.
The android is activated by six cams that perform six perfectly coordinated movements, rotating his head and moving his wrist, left arm, right arm, eyelids, and the bird. The sequence lasts about 50 seconds. The assembly is wound using a key than can be accessed at the back, where the mechanism can be admired.
A palladium leaf gilt finish lends the Poete a modern aesthetic that evokes characters from classic sci-fi novels. Far from the baroque style of the original creations, this playful android allows the viewer to admire and understand its workings in detail. Palladium is part of the platinum group of metals, and offers the additional advantage of not tarnishing over time. It thus guarantees the Poete's impeccable appearance over the centuries and ensures the faithful transmission of the astonishment he elicits. Seated at a lacquered wood desk inside a bell cover of mineral glass, the Poete embodies anew the mechanical genius of Jaquet Droz, rendering him a worthy successor to deliver the watchmaker's signature Art of Astonishment.
"Some watches tell time, some tell a story"