Four years of development were required to complete the project launched in 2014. The Signing Machine, unveiled for the brand's 280th anniversary, continues the centuries-old tradition of mechanical Astonishment begun by its founder in 1738.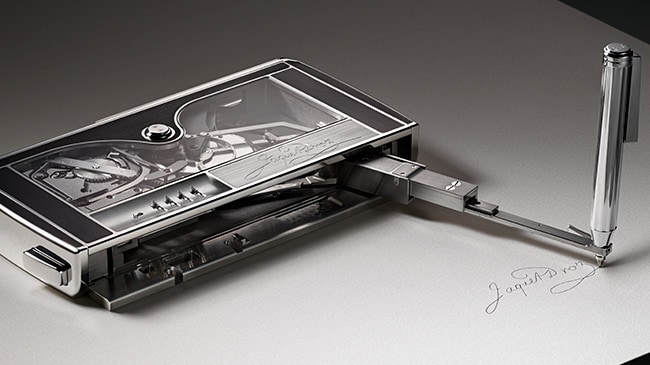 It is no accident that the Jaquet Droz signature is often mentioned in relation to its aesthetic and mechanical creativity. The brand has been perpetuating the Art of Astonishment since the 18th century. It was the first, under the impetus of Pierre Jaquet-Droz, to blend the worlds of Fine Watchmaking, the Arts and Automatons. Today, it is likely the last.
As such, the revelation of "The Signing Machine" is a milestone, and part of the brand's 280th anniversary celebrations – an event highly anticipated by collectors, who were treated to a first glimpse of The Signing Machine in 2014. What began as an ambitious project is today a finished automaton thanks to four years of additional development.
It is a continuation of the Pierre Jaquet-Droz legacy of creating mechanical marvels – unique pieces able to mimic the living with a masterful stroke of magic and mystery. The Writer, The Musician and The Draughtsman, his automatons currently on display at the Neuchâtel Museum of Art and History, laid the foundation for an art that has crossed centuries and continents, from the Royal Court of Spain to the Imperial Court of China, via Paris, London, Geneva and Moscow.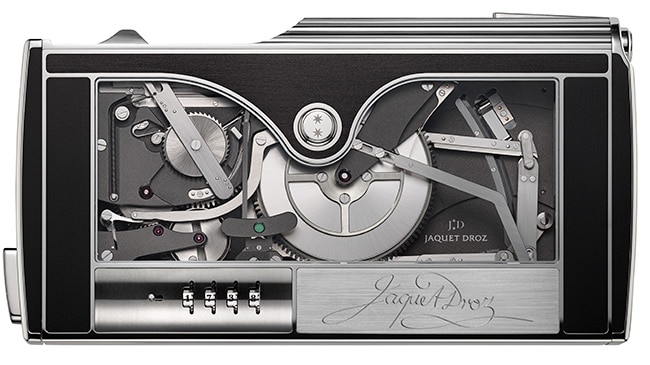 The Signing Machine unveiled today at Baselworld is the culmination of this vision. It is the subject of two patent applications and takes inspiration from both The Writer and The Draughtsman. The automaton's movement has been reworked for fluidity, carrying out perfect, more consistent signatures. It now displays the power reserve allowing it to complete two full signatures before having to be wound by a lever located on the side of the Machine. Together, 585 parts operate within an extremely complex mechanism that is entirely assembled and finished by hand. The programming of the signature – or the mechanical coding of its imprint over three cams – is also carried out entirely by hand.
The signature reproduced by the Machine is thus unique and personal. It can only be activated by unlocking a 4-digit code chosen by the user, who also selects the majority of the decorative elements of his or her Machine, keeping with the philosophy of Jaquet Droz to create truly unique objects of art, executed by hand within its workshops.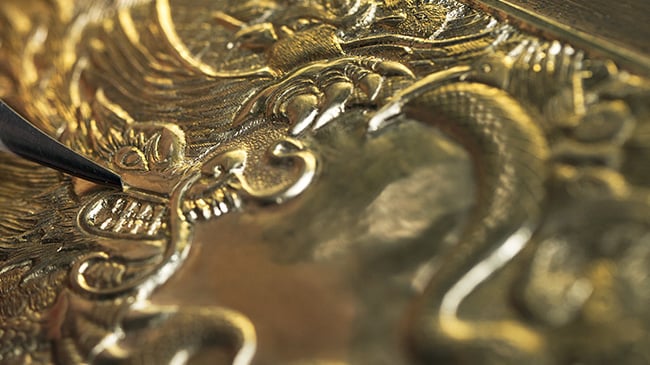 The piece, polished and satin-finished, and finished with hand-engraved red gold or blackened hard wood, has been designed to be portable and will come with a leather pouch. "The Signing Machine" by Jaquet Droz will thus be able to travel the world, as Pierre Jaquet-Droz did in his day, carrying astonishment across borders and oceans.
"Some watches tell time, some tell a story"