Jaquet Droz unveils an automaton in a limited series of 8 pieces, an animated whistling bird, 100% mechanical, developed in homage to the Age of Enlightenment during which the watchmaker produced its first automata.
A timepiece is designed as much to tell the time as to delight the senses; an automaton serves no other purpose than to astonish. These creations made to entertain and charm also bear witness to their age. Pierre Jaquet-Droz was a pioneer in this art. The series of automata he produced between 1767 and 1774 is held by the Neuchâtel Art and History Museum. Today Jaquet Droz is probably the last of the world's great watchmakers to keep alive this tradition of art for art's sake, solely for the astonishment of collectors.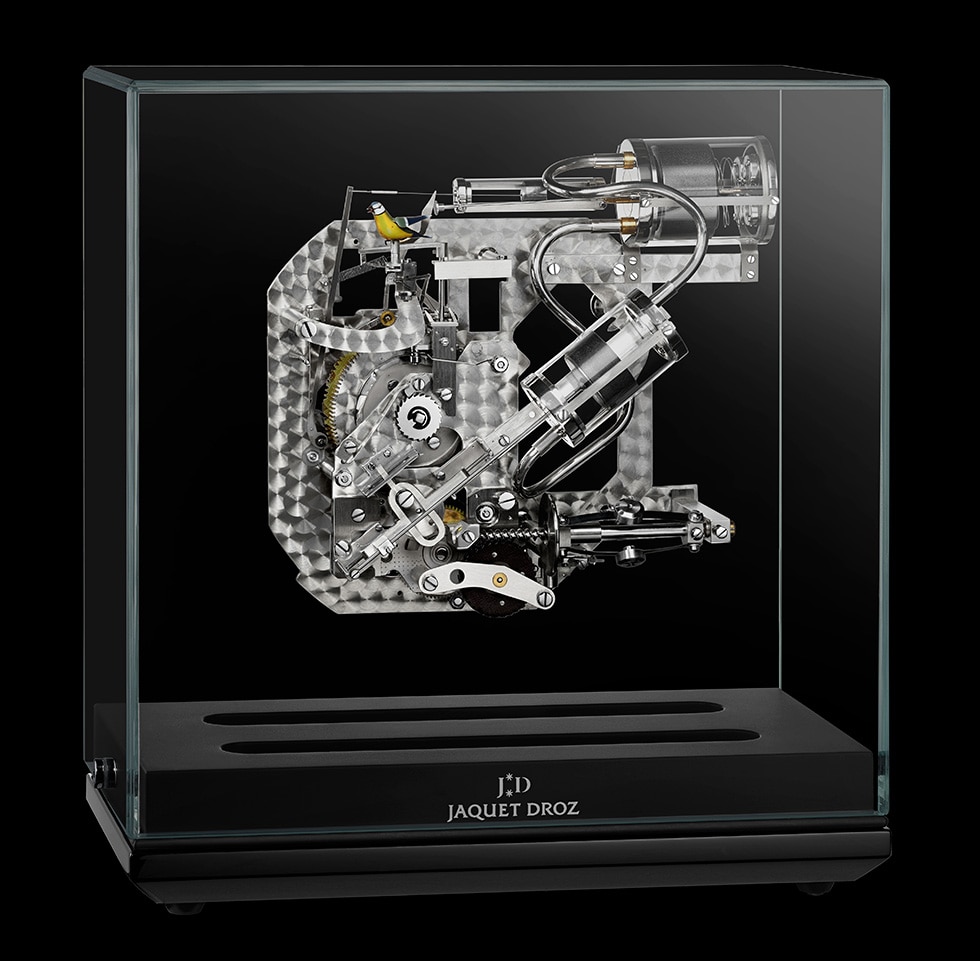 The Whistling Machine represents the latest chapter in this grand tradition. Unveiled as part of the watchmaker's 280th anniversary celebrations, it showcases a hand-painted blue tit bird that whistles a melody by entirely mechanical means. The bird recalls the history of the canary, which originated in the Canary Islands and was trained in the early 18th century to sing melodies that were whistled to it repeatedly.
The serinette was a whistling machine designed to replace human trainers in this task. It was a box of modest dimensions activated by a crank-handle that blew air into the tubes, thus producing a note. It worked more or less like an organ.
Today Jaquet Droz pays homage to this romantic instrument that –like Pierre Jaquet-Droz– lived on after the Enlightenment. The Whistling Machine is presented in a Numerus Clausus limited edition of 8 pieces. It takes the form of a mechanism measuring approximately 25 cm, protected by a glass cage. A key at the back is used to wind the mechanism, giving a power reserve of around two minutes of whistling which can be stopped at any time by a dedicated handle also found at the back of the automaton.
The mechanism is entirely hand decorated and finished. It is left visible, in a continuation of the creations of Pierre Jaquet-Droz who in his day chose to display the mechanisms of his automata to help the viewer understand how they worked. This educational approach was integral to the Enlightenment, analogous to the Encyclopedia that was designed to share knowledge with as wide a readership as possible.
The Whistling Machine has no bellows, only valves. To produce these correctly, Jaquet Droz made use of the research conducted for the Charming Bird, the first singing bird automaton miniaturized in a wristwatch. It functions according to the same main principles: channeling air and engaging the various valves and other moving parts. Several years of research went into achieving this outcome. It is testament to the commitment of Jaquet Droz over the centuries to the world of automata and to the Art of Astonishment.
"Some watches tell time, some tell a story"